Beth Sampson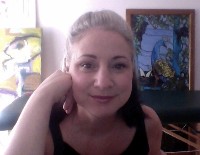 Beth Sampson
RMT, BFA, PaRama BP, CBP, Parama BP, AdvCBP
Clinic
Batya Centre for BodyMind Health
609-525 Seymour Street
Vancouver , BC v6b 3k4
Canada
Phone: 778-861-6545
beth@bethsampson.com
www.bethsampson.com
Biography
Beth Sampson has been a Certified BodyTalk Practitioner since November 2006 and an AdvCBP since June 2011. She has taken Advanced Modules 3, 4/7, 5, 6, and 9, as well as Mindscape, BreathThrough 1 and Br 1 Practical, Chinese Medicine For BodyTalkers, BodyTalk: Advanced Integration, Finding Health 1 and Finding Health 2, Founder's Treatment Intensives, and PaRama Unit 1 Practical.
Beth opened Batya Centre for BodyMind Health in downtown Vancouver where she practices BodyTalk, BreakThrough, and manual therapy. She also teaches a live interactive web-based 100-hour Anatomy and Physiology course designed for BodyTalkers called, "Giving Voice to the Body." In addition, she coordinates BodyTalk workshops, runs study groups for students in Vancouver, and is training to teach BodyTalk: Fundamentals.
Beth graduated from The West Coast College of Massage Therapy (a 3,000hr program) and is a Registered Massage Therapist (RMT) with the The College of Massage Therapy in British Columbia. In addition, she has extensive knowledge of Yamuna® manual therapies, is a Yoga Teacher, and teaches ConEd self-care courses for RMTs. She earned her BFA from The Cooper Union in New York City and is currently working on attaining her BA in Heath Science from Thompson River University.
Beth is also very involved with community development in British Columbia. She served on the Board of Directors for The Yoga Association of BC where she created the Yoga Teacher Registry and served on the BCRPA Yoga Module Task Force. She currently serves as President of Yoga Outreach, a Canadian charity that provides free yoga classes taught by volunteer Yoga teachers for at-risk communities in health care settings, shelters, treatment facilities and correctional institutions. Beth also serves as Vice President on the Board of Directors for the CMTBC, which is the governing regulatory body for massage therapy in British Columbia.