Celeste Farmer-McGuire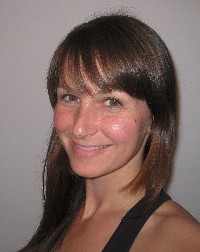 Celeste Farmer-McGuire
RHN, Pranassage Practitioner, CBP
Clinic
Healing Connections
10548 115 Street
Edmonton , AB
Canada
Phone: 780-488-9779
celeste-fm@live.ca

Biography
I feel lucky to be someone who is passionate about life on all levels. I have traveled and lived in several places around the world, searching within and without, learning and growing in any way that presents itself as a tool to help enhance quality of life for myself and those around me.
At the end of the day, that is what it is all about ~ quality of life. And there are many routes to access it... but it all comes down to the same one word. Connection. Whether we choose to connect through nature, silence, conversation, music, dance, spirit, or even just getting to know our own song more fully; connection and knowledge of it, is what brings life to life.
I was introduced to BodyTalk in 2006, while studying Holistic Nutrition through CSNN. A classmate of mine was involved and spoke about this integrative health modality and it piqued my interest immediately. After just one session with her, I knew I had to learn more.
Within months of my first session, I became a Certified BodyTalk Practitioner. My studies continued and still do, and I have now taken: BodyTalk Fundamentals (1&2), Principles of Consciousness (3), Bio-Dynamics (4/7), Macrocosmic BodyMind (6), and Matrix Dynamics (9). I have also studied several of the life sciences offered by the IBA including, Mindscape, Freefall, and Finding Health: Mapping the Healing Process.
BodyTalk is congruent with what I have come to know as my truth, in that each individual has the most direct way to their own health, and that often times, it is a body/mind/spirit imbalance, and needs to have the opportunity to be addressed as such. BodyTalk is a wonderful tool that allows me to be a witness/facilitator in the healing process of individuals, both in person and in distance sessions.
BodyTalk continues to enhance my understanding of health and life, and allows me an opportunity to grow in leaps and bounds in moments I am ready to.
I am honoured to share this exciting, non-invasive modality with people (and their pets) who are interested to explore it; and experience the many wonders and breakthroughs that present themselves.