Sue Gamlin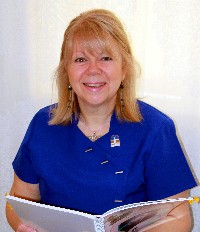 Sue Gamlin
CBP
Clinic
12 Greendale Close
Sutton in Ashfield
Nottighamshire , NG17 3NA
UK
Phone: 07807268646
sueeg@hotmail.co.uk

Biography
Having worked at a ladies motorised gym I saw a lot of health and mobility problems, I noticed one ladies posture and range of movement had dramatically improved, I asked how she'd achieved this. She had been receiving BodyTalk.
I had to know more!
My husband had a severe back problem after an accident in 2000 in which he fractured his lower back and was in constant pain.
After a BodyTalk taster session at a local mind, body and spirit event he experienced 50% pain relief on the spot and has now fully recovered.
So impressed I enrolled on the Access one day course and really enjoyed it. I graduated in May 2007 and have since completed…
Fundamentals

1 & 2
Principles of Consciousness 3
Bio-Dynamics 4/7
Macrocosmic Bodymind 6
Matrix Dynamics 9
Eastern Medicine
Mindscape
I love seeing clients and working with BodyTalk because it is gentle with no manipulation or undressing, and so effective. It is also very relaxing and uplifting, and to me it is truly the energy medicine of the future.
Appointments at…
12 Greendale Close,
Sutton in Ashfield,
Notts.
NG17 3NA
Also available on Thursday's at…
Harmony, Health & Beauty House
17 Leeming Street
Mansfield
Notts
NG18 1NA
Testimonials
For me the 'BODYTALK' Alternative Therapy is a way of life. 4 years ago my body appeared to be "DROPPING TO BITS" then I discovered the amazing powerful "BODYTALK THERAPY". As my body recovered the agonising pains I'd suffered for years ceased. Even my Surgeons & Consultants were impressed & gave "BODYTALK" the "THUMBS UP".
I have highly recommended "BODYTALK" all these years successfully to countless people. From Sue I receive satisfaction and she is a excellent practitioner.
Constance H. M/Woodhouse

Honest, reliable, informative, felt regenerated after my session.
Steve C. Swadlincoate

My leg pain went after 39 years. Now I can bend down etc. I am really looking forward to seeing Sue again.
Jan G. Sutton In Ashfield
My neck pain of over 20 years since BodyTalk has disappeared.
Pauline T. M/Woodhouse
I improved my mobility & lower back pain & general well being.
Aileen L. Shirebrook

BodyTalk has been amazing for me, not only providing relief for a painful
medical condition but also treating life experiences that had been very difficult memorys.
Nicky J. Mansfield
There was a definite improvement, my aches & pains were relieved by 50% after the 1st session. On further sessions I've felt a new sense of well being & I am able to cope with life better.
Pam S. Warsop
BodyTalk recharges my batteries.
John S. Warsop

Please ring 07807 268646
For appointments