Sue Broughton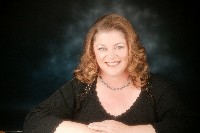 Ms. Sue Broughton
CBP; Reiki Master, Dip Rem Massage, Dip Kin, Dip I, CBP
Clinic
Casa Di Natura Day Spa Centre
144 Ensbey Road
Flaxton, Sunshine Coast , QLD 4560
Australia
Phone: +61 7 5478 6331
sue@casadinatura.com.au
www.casadinatura.com.au
Biography
Sue has had considerable experience gained in helping people to heal the mind, body and spirit through 'hands on' work in several countries particularly 3rd world cultures. Over the past 15 years, she has developed her understanding of healing through natural therapies such as Body Talk, Mindscape, Reiki, Kinesiology, Intrafocal Therapy, Ear Candling, Vibrational & Crystal Healing Systems, and Massage in particular, Remedial and Deep Tissue.
Her diverse experience and knowledge has been gained through running her own healing business successfully from home for the past 12 years; working as a Counsellor and Natural Therapist in a Colonic Clinic in Thailand and setting up 3 Massage Clinics in Kenya, training the local people in massage techniques such as Deep Tissue, Swedish, Sports and Thai massage. Sue's client base has covered people from all walks of life and includes various therapists such as Naturopaths, Massage Therapists, Kinesiologists, Homeopaths etc.

These days, Sue is the owner / manager of Casa Di Natura Day Spa Centre at Flaxton on the Sunshine Coast Hinterland which has been operating since 2010 with a growing BodyTalk practice.

Through a combination of natural healing systems, Sue is able to encourage a holistic healing process for your body. End result, feeling good and healthy with a more positive outlook on life. Sue has co-written the Cert IV in BodyTalk 10334NAT during 2013 along with her RTO partner and friend, Melissa Smith.
Working in a healing capacity with children and adults experienced in supporting conditions such as Cancer, AIDS, mental incapacity, menopause etc, Sue has much success with people suffering from family trauma and abuse and is able to assist in healing the emotional impact on the spirit and body.
Sue possesses talents that enable her to advise on how to integrate a variety of modalities and mediums such as Astrology, Charkas, Meridians, and Crystals to natural healing methods ensuring a holistic approach in assisting YOU to HEAL YOURSELF.