Rita Shylesh Nair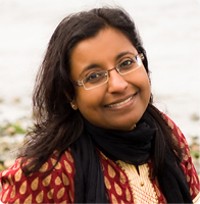 Biography
Rita is a strong advocate of traditional Earth wisdom from all cultures across the globe and studies many ancient traditions of indigenous cultures. Having grown up in various parts of the world herself and learning from many teachers, she maintains a strong respect for energy healing modalities
and spiritual insights from all traditions
that help develop body-mind-spirit awareness.
She has received formal and informal training in various lineages of Yoga, Meditation, Ayurveda and Jyotish (Vedic astrology) from elders and venerable teachers. Her training and studies also extend into Incan, Mayan, Tibetan and Traditional Chinese Medicine, Qi Gong, Tai Chi, Reiki, Native American practices, plant, and mineral sciences.
She came to BodyTalk to address her own challenges with health and healing and experienced profound shifts after a few sessions of BodyTalk. This inspired her to advance her learning and training in BodyTalk. Besides being a Certified BodyTalk practitioner (CBP) and Psych-K facilitator she also teaches yoga, pranayama and heart-based meditation techniques. She is currently working on completing her Advanced CBP certification process.
Her formal education is in the field of technology, eCommerce, and Information Systems. Having worked over 30 years in various highly demanding technical roles, she understands the daily challenges of managing stress while balancing work and life.She continues to take advanced training in BodyTalk, Chinese Medicine, Ayurveda and other Indigenous Wisdom Teachings in the Toltec traditions.
For more information on Rita's work, plea
se visit
www.atmahealing.com
and
www.atmanandam.org
BodyTalk Courses: Access, Fundamentals (1 & 2), Principles of Consciousness (Mod 3),
Applied A &P, Lymphatic Drainage (Mod 5),
Adv. Courses (Mod 4/7, 6 & 9), Anatomy & Physiology, Body Chemistry Specifics,Traditional Chinese Medicine, Breakthrough, Mindscape, Fascial Balancing & Release I, Finding Health 1, Finding Health 2, Eastern Medicine
Other Energy Training: Accunect Connect, Accunect Zoom, Reiki I & II, Accunect, Ayurveda, Qi Gong, Tai Chi, Medical Qi Gong, Traditions of the Mayan Medicine, Indigenous energy medicine teachings (Incan/Toltec tradition), Yoga (Various lineages), Jyotish (Vedic astrology), Marma Chikitsa (Indian meridian point therapy), TM, Vipassana, Zen and Sahaj Marg Meditation, Psych-K, Quantum Physics.
Formal Education:
MBA (Information Systems/Economics), BSc in Computer Information Systems, Systems Architecture, Project Management Training, Business Systems Analysis