Gayathri Shylesh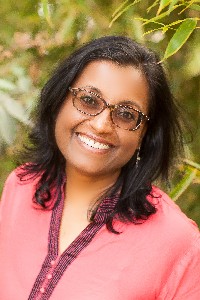 Biography
As a life-long advocate of Mind-Body health, Gayathri grew up immersed in the Vedic Sciences of Yoga, Ayurveda and related esoteric sciences. She is also a practitioner of Meditation,Tantra and breath practices. Her training includes Advanced BodyTalk, PaRama(1 & 2), Ayurveda, Herbalism, Traditional Chinese Medicine, Qi Gong,Yoga (in traditional Vedic style), Vedic astrology, Reiki, Tibetan Energy medicine and Toltec Shamanic practices.
As a Certified Ayurvedic Wellness Counselor, BodyTalk/PaRama Practitioner and Yoga & Meditation teacher, she incorporates multiple approaches of healing with her clients as needed. Gayathri partners with her clients to educate them on their journey to health and wellness while facilitating Quantum Health Sessions towards a deeper introspection and educating them on how to support, manage and balance stress, nutrition and rest.
Her formal education includes a MBA in Information Systems/Economics. She worked in fast paced corporate IT and Telecommunications industries for 27 years as a consultant, Architect, Analyst and Database Administrator. It was while she worked in the corporate world that she experienced health challenges that brought her to BodyTalk. She brings the wisdom and insights gained through her own journey of achieving work-life-health balance to her client practice. Gayathri understands and empathizes with the challenges of dealing with modern day stresses relating to work, family and personal health in our over-stimulated sensory environment and recognizes that health is an ongoing journey towards balance and includes multiple factors beyond just the physical symptoms and a disease diagnosis label.
She assists numerous clients and practitioners from many disciplines integrate wellness accompanied by a deeper sense of connection, compassion and self-awareness within themselves. See what her clients have to say about Gayathri here.
She offers workshops on Ayurveda, Jyotish (Vedic Astrology), Indian Philosophy and related Vedic practices and teaches Ayurveda and Jyotish at the San Diego College of Ayurveda. She has a broad background in health and fitness including health and fitness training. She is also a member of the National Ayurvedic Medical Association and teaches meditation and therapeutic yoga practices. She also has had training in the Shaman practices of Native American, Mayan and Toltec traditions.
Gayathri and her husband Shylesh live in the N. Seattle area and are co-founders of Atmanandam Mission Trust a 501(c) Non-profit organization. http://www.atmanandam.org
BodyTalk/PaRama Training:
Access, Fundamentals and all Advanced courses

Body Ecology, Body Chemistry Specifics,

Traditional Chinese Medicine, Eastern Medicine

Breakthrough, Mindscape, Adv. Mindscape

Fascial Balancing & Release I

Finding Health 1 & 2

PaRama Practical Unit 1 & Unit 2

PlantTalk, Energetics and Practitioner Reflex

Body Psychology courses
Other Training:
Ayurvedic Wellness Counselor (2014), Ayurvedic Wellness Practitioner (2015), Registered Yoga Teacher-RYT200

Jyotish (Vedic Astrology)- various teachers and apprenticed in Kerala with lineages of family astrologers in Kerala

Taoist yoga practices,Reiki, Qi Gong, Tai Chi, Medical Qi Gong, San Baio (3 Treasures) Acupuncture point training

Indigenous Wisdom teachings (Mayan, Incan/Toltec traditions)

Psych-K, Quantum Physics courses with Dr. Amit Goswami
FormalEducation:
MBA (Information Systems/ Economics),

BS/BBA Information Systems,

PMP -Project Management Professional,

CBAP -Business Systems Analyst
Professional Memberships:
National Ayurveda Medical Association (NAMA)
Membership in the IIBA, PMP Guild