Gayathri Shylesh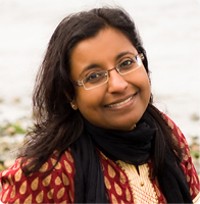 Biography
As a strong advocate of holistic health practices, Gayathri is committed to honoring the sacred Intelligence (Innate wisdom) which governs body,mind and spirit. She came to energy medicine through her own healing journey and experienced profound shifts after a few sessions of BodyTalk which inspired her to train in this system and complete her certification as BodyTalk practitioner (CBP) in 2009.
Having worked in challenging roles in various industries of corporate America as an analyst, architect and consultant for 30 years, Gayathri brings to her clients, the wisdom of her experience of balancing work, life and learning to manage the effects of stress on the body, mind and spirit. As a skilled and well trained practitioner, Gayathri partners with her clients by facilitating insightful and powerful sessions that support and educate her clients to manage stress and overwhelm.
Gayathri offers BodyTalk sessions, Vedic astrology (Jyotish) consultations and Ayurvedic nutritional consultations. She also offers meditation and therapeutic yoga instruction in group or private settings. Gayathri is currently completing her Ayurvedic Wellness Practitioner certification and well as her Advanced Bodytalk Certification (Adv. CBP).
Gayathri has a B.S, MBA and post-graduate studies in Information Technology and Economics. She also has a broad background in health and fitness and was certified as an exercise, fitness and yoga instructor. She is also a member of the National Ayurvedic Medical Association and has also had extensive training in Traditional Chinese Medicine, Ayurvedic Medicine, Yoga therapy as well Shaman medicine practices of indigenous cultures and Vedic Sciences. To learn how Gaythri can help you get started on your unique and personal journey of healing and insights, please contact her today.
For more information on Gayathri's work, please visit www.atmahealing.com http://www.centerforquantumhealth.com or http://www.atmanandam.org
BodyTalk Courses: Access, Fundamentals and all BT Advanced courses including Eastern Medicine, Body Ecology, Body Chemistry Specifics, Traditional Chinese Medicine, Breakthrough, Adv. Mindscape, Fascial Balancing & Release I, Finding Health 1 & 2, PaRama Practical Unit 1
Other Training: Ayurveda, Yoga Therapy (vinyasa krama, iyengar and ashtanga (mysore style), Taoist yoga practices, Reiki I & II, Qi Gong, Tai Chi, Medical Qi Gong, Indigenous energy medicine teachings (Mayan, Incan/Toltec traditions), Vinyasa and Ashtanga Yoga (Various lineages), Jyotish (Vedic astrology), Marma Chikitsa (Indian meridian point therapy), Meditation (TM, Vipassana, Zen and Sahaj Marg) Psych-K, Quantum Physics, Ayurvedic Wellness Practitioner (in progress)
Formal Education: MBA (Information Systems/ Economics), BSc in Computer Information Systems, Certification in Systems Architecture, Project Management Professional, Business Systems Analyst certification. Member of the IIBA & Business Process Architecture Guild