Rita Shylesh Nair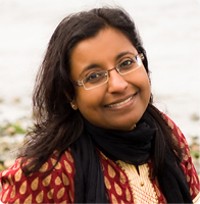 Biography
Rita is an advocate of traditional medicine and earth wisdom of all cultures. She studied Ayurveda, Yoga and related therapies since her early 20's. Rita came to BodyTalk through her own healing journey and experienced profound shifts in awareness after a few sessions of BodyTalk. This experience prompted her to keep delving into "What is the root cause of illness, and what does our body try to tell us through dis-ease ?"
As a BodyTalk practitioner in the Seattle area, she is inspired by the amazing shifts in her clients locally as well as remote clients. She is passionate about this work and upholds its underlying principles of Advaita Vedanta, Quantum Physics, Body-Psychology and Consciousness. Having worked over 30 years in highly demanding technical and management roles in fast-paced corporate environments, she understands the challenges and experiences of managing stress and overwhelm while balancing work and life and feeling uninspired or in a fear-driven way. She brings a level of acute attention to detail to her clients while following her intuition in her service to them.
It is Rita's passion to help facilitate awareness in her clients, to inspire them by offering them information that she has, and sharing the wisdom of her experiences in her BodyTalk sessions so that they too can feel empowered to live in a more connected and inspired way and offset dis-ease. She inspires her clients to develop a new-found respect for their Body-Mind-Spirit Complex and the Innate wisdom that governs and directs all of its functions.
She has trained with traditional Indian teachers in various lineages of Yoga, Meditation, Ayurveda and Jyotish (Vedic astrology) as well as Samkhya and Vedanta philosophy. Her training and studies also extend into Incan, Mayan, Tibetan, Traditional Chinese Medicine, Qi Gong, Tai Chi, Reiki, Native American practices, plant, and mineral sciences.
Rita is currently completing her Ayurvedic Wellness Practitioner program at the San Diego College of Ayurveda and she is also a member of the National Ayurvedic Medical Association.
She teaches yoga techniques and heart-based meditation techniques to help manage stress and overwhelm. She is also completing her Advanced CBP certification and has recently completed the PaRama training
For more information on Rita's work, please visit www.atmahealing.com or www.atmanandam.org
BodyTalk Courses: Access, Fundamentals (1 & 2), Principles of Consciousness (Mod 3), Applied A &P, Lymphatic Drainage (Mod 5), Adv. Courses (Mod 4/7, 6 & 9), Anatomy & Physiology, Body Chemistry Specifics, Traditional Chinese Medicine, Breakthrough, Mindscape, Fascial Balancing & Release I, Finding Health 1, Finding Health 2, Eastern Medicine, Bodytalk Advanced Integration, Body Ecology, PaRama Practical Unit 1, and Adv. Mindscape
Other Training: Taoist yoga practices, Accunect Connect, Accunect Zoom, Reiki I & II, Accunect, Ayurveda, Qi Gong, Tai Chi, Medical Qi Gong, Traditions of the Mayan Medicine, Indigenous energy medicine teachings (Incan/Toltec tradition), Vinyasa and Ashtanga Yoga (Various lineages), Jyotish (Vedic astrology), Marma Chikitsa (Indian meridian point therapy), TM, Vipassana, Zen and Sahaj Marg Meditation, Psych-K, Quantum Physics, Ayurvedic Wellness Practitioner Diploma (in progress)
Formal Education: MBA (Information Systems/ Economics), BSc in Computer Information Systems, Systems Architecture, Project Management Professional training, Business Systems Analyst certification. Member of the IIBA & Business Process Architecture Guild