Amberlee Gustafson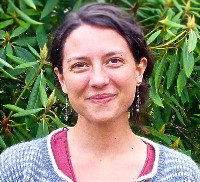 Biography
Amberlee was introduced to BodyTalk as a teenager growing up in Miami. She and her mother both began going to a practitioner there when her mother presented with a bone marrow cancer. From her first session, Amberlee was surprised by how good she felt in body, mind, and spirit. Since the age of 13, she's gone to BodyTalk practitioners as her primary form of health care.
After experiencing the benefits of BodyTalk directly as well as through witnessing her mother's healing process, she became more and more interested in the modality. Through studying BodyTalk, she's learned that all true healing comes from within. She appreciates that BodyTalk respects the body's innate ability to heal itself.
Now that she's a certified practitioner, she's excited to share the multifaceted benefits of BodyTalk with her friends, family, and community. She practices BodyTalk on adults, children, and animals and is available for distance sessions.
Please feel free to call with questions or to set up an appointment.
you can learn more about Amberlee at: www.amberleerose.com
"Keeping the body healthy is an expression of gratitude to the whole cosmos -- the trees, clouds, everything.The true miracle is not walking on water or walking in air, but simply walking on this earth."

~ Thich Nhat Hanh.