Joanne S. Woychuk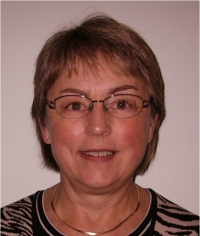 Joanne S. Woychuk
CBP, Parama BP
Clinic
5528-43 St.
Box 1120
Lamont , AB T0B 2R0
Canada
Phone: 780-722-1811
woychukj@telus.net

Biography
Hello! My name is Joanne Woychuk CBP Par.BP. My educational designations are Certified BodyTalk Practitioner, Parama BodyTalk Practitioner, and also Medical Laboratory Technologist.

Synchronicity took me to an "Introduction to BodyTalk" presentation in 2003 by Instructor Susan Faber, at which I was overwhelmingly drawn to studying this unique, forward-looking life science.

The BodyTalk System helps me to integrate medical knowledge with my vision of holistic health, creating a whole new career helping people choose wellness over illness.
I see this already awesome healing system keep on evolving with each new leap of knowledge from research in quantum physics, cell biology, genetics, etc. as it builds upon a core of ancient healing philosophies.
My studies include BodyTalk Modules 1, 2, 3, 4, 5, 6, 7, 9, Orthopedic Evaluation, Mindscape and Advanced Mindscape, Right Brain, Parama 1 & 2, Chinese Medicine for BodyTalk, Animal Talk, Breakthrough 1 & 2, Finding Health 1 and 2.

I have also taken Reiki Level 1 and 2 .
My current focus is the study and application of the concepts of tensegrity, epigenetics, quantum physics and universal consciousness to the human healing process.

My practice is located in Lamont AB which is 45 minutes east of Edmonton, as well as in south Edmonton.
I am a member of the International BodyTalk Association and Parama College.

Come share my excitement!

Clients have seen dramatic changes in their pain levels, their emotional and mental health, and in their overall outlook on life.

Give BodyTalk a try---experience what it is like to live your life feeling well and balanced.

Allow BodyTalk to open your own awesome, though often forgotten, healing potential.

Book a BodyTalk session ----- start your very own path to feeling great!
Here are some comments from my clients of BodyTalk:

"I was introduced to Joanne by a friend and knew nothing about BodyTalk or the process. I saw the difference in my friend and thought that "I'd like some of that".
Joanne is a blessing and BodyTalk is a gift. You can achieve so much without months of studay or even understanding. I've had 5 sessions with Joanne as my intermediary. Tha pain in my knee which was chronic has been eliminated and almost disappeared in the first session. I feel brighter, lighter and happier,with a sense of clarity and a sense of well-being that is really beyond words.
I'm looking forward to our ongoing sessions. For stress management and personal growth, I couldn't recommend anything better."
KB Paralegal

"With BodyTalk, I feel more connected and aware. I have less fatigue, more sleep; less pain, more peace. What a relief to know that the power to heal is within me, not without, and that BodyTalk can help to unlock that power. It is a truly empowering experience."
John Computer Programmer


"A very uncomfortable pain in my left heel known as plantar fasciitis brought me to a BodyTalk session. I doubted any "tapping" could relieve the pain, however I was not looking forward to the alternative which is expensive orthotics. To my surprise I felt much less pain just after the session and within a few days the heel was fine.
D.F. Med Lab


After 2 BodyTalk sessions I feel so much more relaxed and centered. I am sleeping better and am more in tune with my body. It has given me such a great sense of self and well-being.
S.K.

I've had 2 BodyTalk sessions with Joanne and it seems like I have never felt this good in my whole life! My aches and chronic virus issues are gone, leaving me feel 100% better than I used to.
Feels really good!!!
L.S.

Through the therapy and experience of Joanne's BodyTalk treatments, I have been able to become "unstuck". This has manifested into my physical healing and I am happier and have begun to find a deeper connection to myself.
C.L. Contractor