Odile Aiken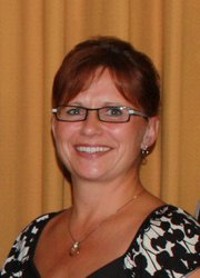 Odile Aiken
Health Coach, B. Ed., Red Cross Instructor, CBP, AdvCBP
Clinic
Country Care Health & Wellness Center
6 km NW of Canwood Hwy 55 & 4 km W on Country Road
Canwood , SK S0J 0K0
Canada
Phone: 306-468-2720
aikencountrycare@gmail.com

Biography
Odile has a broad range of experience in the health-related field. She worked as an Emergency Medical Technician and Special Care Aid early on in her career. Now, she is an Advanced CBP, and a Training Partner with the Red Cross instructing First Aid, CPR, and AED.
As a result of a serious back injury, in 1991, Odile was no longer able to work at the nursing home and pursued and attained a Bachelor of Education at the University of Saskatchewan. Odile has worked in the public school system since January of 1994 primarily in the areas of Special Education and Math, working with students from grades K to 12; and coaching most sports. In June of 2012, Odile resigned from teaching to pursue a full-time career in BodyTalk.

In January 2011, Odile experienced improved health through BodyTalk, thus beginning her journey as a practitioner. Odile has completed BodyTalk Access, Access for Animals, Modules 1 through 9, Advanced Procedures, as well as,Body Talk Advanced Integration, Eastern Medicine, PaRama 1, PaRama 1 Practical, Free Fall, Breakthrough, Mindscape, Advanced Mindscape, Structural Integration, Orthopedic Evaluation, Finding Health 1 and 2, Anatomy & Physiology for BodyTalkers and Linking Awareness. She is currently studying PaRama 2 as well as becoming a Certified Health Coach and Chakra Dance Facilitator.

Odile and her husband, Ken, have 4 beautiful children - Dallis-19, Rylee-17, Ryan-15, and Delayne-14. All of the children have taken Access for Animals, and Linking Awareness. Dallis is also a certified Body Talk Practitioner.
They are a very close-knit family who work very well together on the 100-year old family farm. They grain farm and ranch with nearly 350 commercial beef cows. They are a dedicated 4-H family. Odile and Ken were members and now leaders; and their children are actively involved in the Beef, Archery, and Doing It On Your Own projects.

As a Motivational Speaker, she talks to school students about Eating for Energy and the Sugar Blues - satisfying your Primary foods for general well-being.
Odile was awarded by the Global Directory of Who's Who, the honor of being a Lifetime Member in Recognition of hard work, dedication, perseverance and for demonstrating leadership and achievement in her occupation and profession as well as the 2012 Top Female Professional Award.
Odile is an Advanced Certified BodyTalk Practitioner, PaRama BP, a Director for Ariix, an Independent Distributor for Young Living Essential Oils, & Arbonne.
Odile's business, Country Care Health & Wellness Center, offers BodyTalk for Humans and Animals, Lymphatic Drainage, Health Coaching, Red Cross training in Standard First Aid, CPR and AED; as well as Quantum laser therapy and consultations for Ariix, Young Living, and Arbonne.