Mary Slocum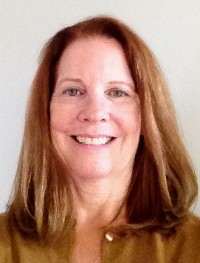 Biography
As a university undergraduate, Mary studied literature, the ancient Indian texts, and Zen Buddhism as a way to discover self. This journey led her to practice of meditation which she continues today. At the same time, sensing the interconnectedness of inner and outer, she learned anatomy, taught physical fitness, and studied classical ballet which showed her how the spiritual is expressed in the physical. Then, having finished her liberal arts graduate degree and lived for a time in Chile, her natural inquisitiveness pulled Mary in another direction. After studying mathematics and economics, and earning an MBA, she set off into the business world of technology.
Traveling the world, she multi-tasked and raced the 24 X 7 clock until things started breaking down. One day an excruciating neurological pain stopped her in her tracks and more symptoms arose. She sought help within mainstream medicine, and also did chiropractic and acupuncture. These provided only some relief. Then, after several years, a medical doctor pointed her in the direction of a BodyTalk practitioner and so began her extraordinary healing journey. Within a few sessions the symptoms disappeared and over time, she experienced new levels of integration and wholeness of body and mind. With rekindled vitality, she set out to study BodyTalk with the intention of helping others find new levels of health and wellbeing, just as she had and continues to do.
As a Certified BodyTalk Practitioner, Mary has completed BodyTalk Fundamentals, Parts 1 and 2 and Fundamentals Integration as well as the advanced courses: Principles of Consciousness, Bio-Dynamics, MacroCosmic BodyMind, and Matrix Dynamics. She has successfully passed the advanced examinations and is working on Advanced Certification. A student of Parama BodyTalk Mary has completed the Parama I Practical. She has also taken Finding Health and the Founders Treatment Intensive with John Veltheim as well as Mindscape and Advanced Mindscape, a powerful tool to sharpen the intuitive intelligence.
To further support her work with clients she continues to study advanced topics in related disciplines. To deepen her understanding and insight and enhance her working with clients Mary is completing a four level course, Focusing for Healing Professionals. At Stanford University, she has completed The Science of a Compassionate Mind and The Science of Willpower.
Mary is here to facilitate your journey to healing and well-being. She sees clients in person and offers distance healing sessions via phone or Skype for those unable to reach her in person. Mary invites you to learn more by visiting her webpage here.