Christina Kennon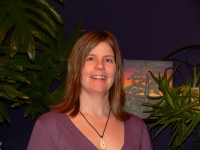 Biography
Christina Kennon has been in the health field for over ten years as a registered massage therapist. She has also been trained in sports massage and travels with a competitive mens fastball team. Christina is very dedicated to the work that she loves.
In the year of 2004 she had a illness that could not be diagnosed by conventional medicine. This is when BodyTalk became a part of her life. It has been a very powerful way of healing for her physically, mentally and spiritually.
Since BodyTalk became a part of her life she has made many changes and transitions for herself and her clients. She is a Certified BodyTalk Practioner and now has a full time practice and is looking forward to begining the journey of teaching.
" I would like to thank John and Esther for the powerful work of putting this all together and using the knowledge of the own body to work on a level of priority."
" I would like to give a special thanks to my bestfriend for guiding me down the path of BodyTalk. In my life at the time I felt I had no other options and with BodyTalk it showed me the way I needed to address some of the underlying issues that were within me. She also brought along the path Sylvia and Vilnis and a special thanks to them. They are helping me on my journey to finding myself."