Seminars etc.
Instructors
Course Descriptions
PaRama BodyTalk Unit 2 Live
Show all Upcoming PaRama BodyTalk Unit 2 Live Courses Scheduled | Back to List of All Courses
---
PaRama BodyTalk Unit 2 comes to the German-speaking world! Dr. John Veltheim will be presenting, with the assistance of a translator, PaRama BodyTalk Unit 2, the most advanced coursework available in the BodyTalk System and the cutting edge of applied energy medicine. This seminar will be filmed as the basis for the German-language DVD course of PaRama Unit 2.
This course counts for 32 hours of continuing education for Certified BodyTalk Practitioners' requirements.
Spotlight
BodyTalk bridges the gap between Western medicine and alternative modalities. These Taiwanese firefighters can use Access Fast Aid in emergency situations.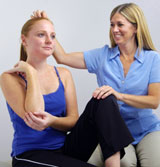 The BodyTalk System can be learned easily and will produce professional results while broadening your scope of professional practice.