Seminars etc.
Instructors
Course Descriptions
There are no CEUs/CNEs offered by Gilly Adkins at this time.
Spotlight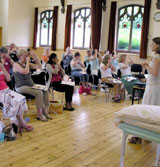 An Access class in the UK. One six-hour class is all that's needed to learn a basic health maintenance routine that can be used for a lifetime!
Spotlight
BreakThrough is a well-organized system of steps designed to show us our built-in defenses and deep-seated, limiting beliefs from childhood that prevent us from living life fully. Learn how you can break out of your defensive shell.