Seminars etc.
Instructors
Course Descriptions
There are no CEUs/CNEs offered by Gilly Adkins at this time.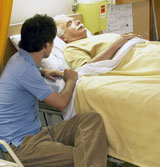 The BodyTalk System provides low-cost preventive care, reduces hospital stays and lowers the cost of drug use by stimulating the body to heal faster.
Spotlight
BodyTalk Access was developed for the lay person or as a one-day introduction to the larger BodyTalk System. BodyTalk Access is ideal for first-responders in emergencies.