Linda Hartman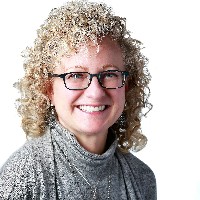 Biography
Linda Hartman, Advanced Certified BodyTalk Practitioner, Parama Practitioner, BodyTalk Access Trainer
Linda is an Advanced Certified BodyTalk Practitioner, Parama BodyTalk Practitioner, and BodyTalk Access Trainer in the Philadelphia area. Linda's discovery of BodyTalk lead to profound shifts from chronic conditions that were unresponsive to medical/holistic treatments. She overcame years of extreme fatigue, while traditional medicine found her to be in the best of health. Unbeknownst to her, deep-seated grief was at the root of her paralyzing fatigue and discontentment. Through BodyTalk she found a sense of peace, harmony and fulfillment in her life that enabled her to move forward and regain a part of herself that had been lost. In addition, she was able to overcome long-term back issues, an over-reactive fear of dogs, chronic joint tendonitis, and life-long sinus allergies that had required daily medication.
The BodyTalk Impact
Everyone has a natural ability to heal that is far greater than they have been allowed to believe. Linda helps her clients empower their natural healing abililty by considering everything about their life (physical, emotions, belief systems, attitudes, the environment, heredity, traumatic memories, etc.), along with all physical and energetic body systems, to find the root cause of pain, illness, and disease, even before they surface. The innate wisdom of the body has all of the answers for healing.. you just have to ask the body what it needs. Linda has enjoyed observing the restoration of health and well-being in her clients, as well as the changes BodyTalk has made in their lives. When our energy shifts, everything around you shifts, and new opportunities become available. BodyTalk is a truly holistic healthcare system that addresses the body, mind, emotion and spirit. The healing possibilities are endless when the person is addressed as a unique whole being, with their own personal story and healing journey.
"BodyTalk is the best system in the world for finding out what your body needs to heal itself."
Services
As an Advanced Certified BodyTalk Practitioner and Parama BodyTalk Practitioner, Linda appreciates that BodyTalk is based on the body's healing priority, and works at the deepest levels of the body in a safe, effective, and non-invasive way. In the same priority-based manner, Linda offers the Veltheim System of Lymphatic Drainage, SourcePoint, BioGeometry, and Craniosacral Fascial Therapy (CFT), all performed energetically for a fully-clothed, relaxing, and effective experience. Visit www.NurtureBalanceHeal.com for further information.
BodyTalk Access
Linda is a BodyTalk Access Trainer, offering a one-day BodyTalk Access classes where students learn BodyTalk self-help techniques that can be used by anyone and everyone to support their health, and their family's health and well-being. Visit www.NurtureBalanceHeal.com for a schedule of classes.
What Linda's Clients say:
"I'm still feeling the 'amazed/stunned effects of the last session. I feel like the work on my knee and all of the levels that unfolded were pretty powerful. I experienced not only physical healing, but the more profound healing of my 'being'. I am really appreciating the work you do."
"I am really impressed with BodyTalk. I feel stronger, more balanced, less angry, and my pain is gone. I have tried many therapies, but I have never come across any other system that was able to address both the emotional and physical at the same time."
"Oncoming car headlights were no longer doubled and so bright as to make it hard to drive (night driving was becoming a problem). I had some very noticeable 'floaters' in my cornea and they seem to be gone, gone, gone! Grateful for your work!"
"I wend into a session with Linda in a huge depression that had been hanging like a cloud over me for a couple weeks and I couldn't shake the negative cycle of thinking. I had no idea why I was in such a funk - or couldn't figure it out. After the session, the depression was completely gone and the spiral of negative thinking couldn't resurface. A-freaking-mazing."
"My 18 month old son had always had digestive issues. He got sick vomiting for about four hours. The following week he wouldn't eat anything! Linda did a distance BodyTalk healing for him. That night he seemed to go to sleep so peacefully. The next day he amazingly started eating small amount so bland food. it seemed like he was slowly gaining confidence with food again. each day he was willing to try more and more of the foods he once ate. Now he is not only eating his normal diet, but seems to be chewing and digesting food much better. Thank you Linda!"
"Linda did BodyTalk to help heal the rash that I had on my are for 3 weeks form the allergic reaction to my tattoo... and let me tell you all, the rash is gone!! I had been to the doctor, but nothing they did worked. I wold try to explain, but best to recommend for you to check out for yourself. I'm a believer!"
"I had a chronic cough for over a year and had started having allergy triggered asthma attacks. After bout 2 sessions with Linda I noticed that , hey, I hadn't coughed in over an hour. After about 3 sessions I realized that I wasn't coughing at all anymore. I haven't had pneumonia related symptoms or coughing in over a year now and I fully attributed it to BodyTalk."
"Through Linda's BodyTalk work with me, she has managed to help me tackle physical and emotional issues. Such as 2 year plantar fasciitis pain that was not responding to my usual tactics. Over several sessions the pain in my heels went away without the use of daily stretching, shoe inserts, or nighttime splints. Also I had a sudden intense pain in my cheek one day that seemed to be tooth, ear or jaw related that was so painful I could barely open my mouth or chew. A few days after our session I woke up with all trace of pain gone. In addition I have had a soreness in my thumbs for several year s that has been greatly reduced to the point of annoyance instead of debilitating pain over several BodyTalk sessions. More importantly I think Linda and BodyTalk has helped me tackle some of the emotional baggage from a dysfunctional childhood and financial strain of an extended job search. I sort of feel it gave me the confidence and calmness to tackle the job search successfully. In short Linda has helped me naturally heal both body and soul in a way."
"I have had knee issues for years from sports and heavy lifting. My knees reached a critical point last summer where, after a long week of working 12 hour shifts on my feet carrying heavy equipment, my knees felt like they were shot. I had pain, inflammation, and difficulty walking. After receiving BodyTalk sessions from Linda, my knees are better than they have been in years!"
Education and Professional Credentials
Linda believes in offering her clients the latest in scientific discoveries with BodyTalk, therefore her professional education is an ongoing process. Linda has completed breakthrough courses in Epigenetics, as well as a course called BodyEcology, that works with imbalances in the body's microbiome. Linda has also completed studies in Parama, the mastery level of BodyTalk, with the BodyTalk founder, Dr. John Veltheim. Linda is a member of the International BodyTalk Association, and a founding Board member of the BodyTalk MidAtlantic Association. Linda holds a Bachelor of Business Administration in Computer Science and Statistics from Temple University. Linda is a Yoga Alliance registered yoga teacher (RYT), a Laughter Yoga Leader, and an Ordained Minister.
"I invite you to nurture the wellness within you by joining me on this wonderful journey to health and happiness."
BodyTalk Training
BodyTalk Fundamentals (Modules 1 & 2) - Foundation of BodyTalk
BodyTalk Fundamentals Integration - Practical Application of BodyTalk
BodyTalk Fundamental Study with Found, Dr. John Veltheim
Principles of Consciousness (Module 3) - Inner Peace and Harmony
Macrocosmic BodyMind (Module 6) - Harmonizing External Influences
Bio-Dynamics (Modules 4 & 7) - Integration of Energy & Physiology
Matrix Dynamics (Module 9) - Healthy Energetic Relationships
Advanced Integration - Advanced CBP Preparation
EpiGenetics w/ Dr. Laura Stuve
Sou's Journey - Exploring the Mind & 3 Brains w/ Dr. John Veltheim
Eastern Medicine - 12 Major + 8 Ancestral Meridians w/ Dr. John Veltheim
San Baio - Classical Chinese Medicine - 3 Treasures
BodyEcology - Building a healthy Microbiome and Immune System
Body Psychology - Shoulders, Hips, and Spine w/ Dr. John Veltheim
Body Psychology - Organs, Endocrines, Fascia and Water w/ Dr. John Veltheim
Parama Unit 1 - Mastery level of BodyTalk
Parama Unit 1 Practical
Parama Unit 2 Mastery level 2 of BodyTalk
Parama Unit 3 Practical w/ Dr. John Veltheim
Finding Health 1 - Mapping the Healing Process
Practitioner Reflex - The Ability to Respond w/ Dr. John Veltheim
BioPhysical Mind w/ Dr. John Veltheim and Dr. James Oschman
BodyTak Access - Self-Help Techniques
Advanced Procuedres - Advaned BodyTalk Procedures
Anatomy & Physiology - 100 hour study
MindScape - Intuition Development
Aspiring Braining Academy - In-depth MindScape study
BreakThrough 1 - Life Science - Removal of Limiting Beliefs
BioGeometry - Shape and Energy Relationships
Craniosacral Fascial Therapy (CFT) - Craniosacral + Myofascial Release
Lymphatic Drainage + Applied Anatomy & Physiology
SourcePoint 1, SourcePoint 2, SourcePoint 3, SourcePoint Advanced 1 - Maps body to Blueprint for optimal health
BodyTalk Professional Affiliations & Events
Practicing Member of the International BodyTalk Association
Board Member of the BodyTalk MidAtlantic Association
International BodyTalk Conference - Malta 2013
Parama BodyTalk Practitioner Retreat - Arizona 2015
International BodyTalk Association Conference - Vancouver 2015
International BodyTalk Association Conference - Clearwater, FL 2017
www.facebook.com/NurtureBalanceHeal
www.pinterest.com/BodyTalkPhilly