Laura Stuve, Ph.D.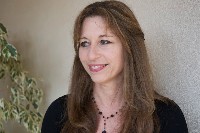 Dr. Laura Stuve, Ph.D.
PhD, CBP, Par. BP, AdvCBI, SrCBI, CBI, BAT, CBP, Parama BP, AdvCBP
Clinic
303 Potrero St
Building 29, Suite 201
Santa Cruz, CA 95060
USA
Biography
Dr. Laura Stuve is a PhD molecular biologist, a Senior Certified BodyTalk Instructor, PaRama BodyTalk Practitioner and Adv. Certified BodyTalk Practitioner. She spent 25 years doing research in human molecular genetics in both academia and the biotechnology industry, before transitioning into BodyTalk. She received her PhD in Biochemistry from the University of California, San Francisco and went on to do a post-doctoral fellowship at Stanford, working on the Human Genome Project. She has directed numerous research projects focused on investigation of the genetic basis of human disease.
Laura's lifelong interest in alternative healing, Chinese medicine, dream interpretation and shamanism led her to discover BodyTalk in 2005. BodyTalk has helped resolve her major chronic health issues and inspired her to study, practice, teach and bring her research experience into the world of this transformative system of mind-body medicine.
Laura's passion is teaching BodyTalk and doing research. She teaches BodyTalk Fundamentals, Fundamentals Integration focusing on the physiology of the stress response, Module 6: Macrocosmic Bodymind, and BodyTalk Access. Laura has developed two new BodyTalk courses to leverage the recent major scientific advances in the microbiome and epigenetics into practical tools for BodyTalkers that really make a difference in the clinic. She worked with Dr. John Veltheim to develop and co-teach BodyEcology, a course on the recent research findings about the role of the
human microbiome
on health and the skyrocketing rate of immune disorders. Laura's latest course, Epigenetics for BodyTalkers, gives practitioners the tools to unlock chronic and stubborn health issues by working at the DNA level.
Additionally, Laura mentors BodyTalk practitioners; for quickly coming up to speed in the fundamentals of BodyTalk, for mastering and deepening the practice of Macrocosmic BodyMind, and for practice building.
Laura directed the first formal clinical research study for BodyTalk, working with Dr. Janet Galipo, Adv Senior BodyTalk Instructor. The study has shown very compelling results for distance BodyTalk treatments in chronic pain conditions and is published in the peer reviewed Journal of Pain Management in late 2014. Janet and Laura are now seeking funding for two follow-ups research studies that expand these initial exciting findings.
Laura's BodyTalk practice incorporates techniques from all of the Advanced Modules, Mindscape and the most advanced BodyTalk work from PaRama 2, that calls upon her unique background in genetics and epigenetics. She sees clients with a wide range of concerns at in Santa Cruz. She loves to work with both adults and children. Her BodyTalk sessions frequently call upon her detailed molecular background in combination with the multidisciplinary and intuitive approach of PaRama BodyTalk.
Read on for Testimonials from Laura's students...
Laura Stuve is an outstanding teacher and mentor. She is clear, organized and supportive. I took Fundamentals, Fundamentals Integration and Mentoring from her and it made my passing the CBT exam both possible and easy. She's the best.
TK, CBP
Laura's calm, thorough and organized manner of presenting Fundamentals makes the otherwise overwhelming amount of information seem so easy to absorb. She incorporates a very good balance of theory and practice with just enough structure so you leave the seminar feeling confident about starting to practice on your own. Her Fundamentals Integrations class was superb with emphasis on Quantum physics and hands on integration of the theory.
SK, LAc, CBP
Laura's mentoring sessions created a supportive space in which to question, observe, and practice that was instrumental in fastracking my preparation for certification and more importantly, my development as a BodyTalk practitioner.
MS, CBP
Fundamentals with Laura is dynamic, engaging and interactive. Because of her thorough knowledge and preparation, she teaches with clarity. This makes the material and techniques easier to understand. Not only does Laura have a contagious passion for BodyTalk, she also has a gift for teaching and encouraging her students.
VW, CBP
Laura's training was inspiring and timely. After my first series of classes, I felt as if I had come full circle with Traditional Chinese Medicine. BodyTalk enhances the practice of TCM by tapping into another branch of diagnoses and healing.
MJR, CBP, LAc