Reality check with the Family Hope Center
Jan 16, 2009
By Katharina Arnesen
Reality check with the Family Hope Center
By Katharina Arnesen, AdvCBP, AdvCBI, Uppsala, Sweden
Some years ago I sat beside a man with a mission and a passion during the first ever "Orthopedic Evaluation for BodyTalkers" class in Sarasota. During breaks he talked about children with injured brains that he worked with and how well BodyTalk fitted in to the rest of the program he had developed. When I said I was from Sweden he said he and his team did fly in to Svendborg, Denmark, a couple of times per year to do treatments and assessments. He wondered if I had heard about Svendborg. Svendborg is actually the "friendship-town" in Denmark to the town where I was born so we had an exchange program with a school there when I was in high school.
The man was of course Matthew Newell, and the program is the Family Hope Center program. He recommended to some parents to take BodyTalk treatments with me and I started to work with some children. Then I heard Matthew's talk about the Family Hope Center last summer at the IBA Instructors Conference and decided that I wanted to know more. On January 5-7 they offered a seminar in Svendborg and I was there, and so was Petra Tunmar Lundell CBP from Sweden, three more practitioners of different modalities and many, many parents of brain-injured children from Denmark, Norway, Sweden, Germany and other European countries. We got three full days of practical information that applies not just to kids and adults with brain injuries – it applies to everyone, even though not everyone still has work to do in all areas.
I learned about why it is vital to let babies sleep on their tummy and not on their back and preferably on a surface they can move and crawl on. I learned about what movements need to happen to start up development in the brain, how to train blind children to see by building up cells that deal with sight; and get deaf kids to hear by stimulating those cells that deal with that; and that if your sense of smell doesn´t get developed in a proper way, you can't really relate to others in your surroundings – and how to start develop that sense. I also learned that 250,000 brain cells per minute are developed in the fetus during pregnancy to get to the 1 trillion brain cells we have when we are born.
I learned that 1 working horse can pull 2 tons by itself; but if it is working in tandem with another horse they can together pull 23 tons– a really good reason to work together in groups, I think.
I learned about how important it is and why to have a pure environment, excellent nutrition and good exercise; but be sure to not forget to add a lot of laughter and affection and to celebrate when I reach my goals, and then set new ones and that my attitude is something to always monitor closely.
I learned about how to organize movement programs, nutrition, sensory programs, reading and other language programs, hyperbaric chamber programs, different kinds of treatment programs into an ordinary day for a family; and to not let all the programs run the family, but just be a part of the family life; and to not forget to take the weekends off and to schedule vacation time – since, as Matthew puts it, "This is not a sprint competition, it is a marathon".
I learned a lot, but what I learned most from was from listening to parents and their concerns, watching the light of hope in their eyes – they will not give up whatever the obstacle, seeing them fill in the assessment papers and getting it "in black and white", so to speak, how much work there is still to do to get their child to function like a well child of the same age, hearing the parents that have been in the program for a while talk about all the changes that have happened. Just being around people for several days that have a big challenge with health in their family, sometimes one child, sometimes more than one have a brain injury. This is really humbling and also a big incentive to learn as much as possible to be able to assist in the healing in the best possible way; it is a real reality check in many different ways. Matthew and Carol say over and over again that they are there for the families and they really are. They spend all the time needed during b! reaks and after class to listen to and talk to everyone that wants to.
I can highly recommend anyone interested in working with treatment on people to take this seminar. It is interesting and easy to follow; the manual is packed with interesting information; everything is presented in a clear and organized manner by Matthew and his wife Carol. The information applies to all of us, even the ones that are fortunate enough to not be brain injured in any way at all. If at all possible, take the chance to participate in a seminar together with the families to get all the benefits of the reality check and the knowledge at the same time.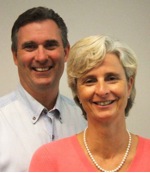 « Back to all news