Local and Regional Websites Around The World
The websites listed on this page are those of local and regional groups and associations affiliated with the IBA. The IBA is not responsible for their content or presentations. But we list them here to enable you to learn more about BodyTalk and the other IBA courses in your language, country or region, and to become aware of all the BodyTalk activity in your community...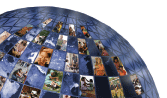 IBA Affiliated and Foreign Language Sites
Deutsch
Eine weltweite Organisation, die Visonen, Werkzeuge und Ausbildungen fur die Zukunft der Biowissenschaften bereitstellt.
---
Japanese
ボディートーク日本語版ホームページ
---
Portuguese
Website do BodyTalk System no Brasil
Associations