Guidelines for Sharing BodyTalk Access
Printed from http://www.bodytalksystem.com//learn/news/article.cfm?id=1111 on Jan 16, 2022.
Mar 31, 2020
By IBA Office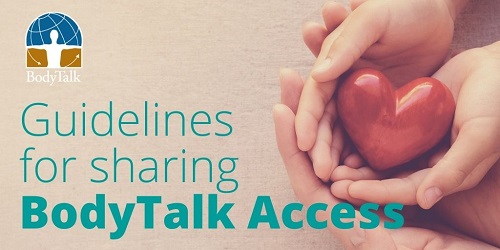 Dear BodyTalk Community,
We are receiving emails asking how BodyTalk Access can be delivered to as many people as possible given the current world pandemic. The IBA is currently reviewing applications from our Instructors to teach BodyTalk Access online, which some Instructors are already scheduling (see course listing link below). We are also working on a BodyTalk Access Outreach version we hope to have available soon. The courses will vary in content and purpose, with the Outreach course being an abbreviated version of BodyTalk Access offered at a discounted, donation-only or free basis where no manuals are given. The goal of BodyTalk Access Outreach is to get the BodyTalk Access tool set quickly and easily into as many people's hands as possible.
What we currently need to ask all of you is to please respect the integrity of this incredibly powerful self-help system and leave the teaching of the BodyTalk Access routine to the certified BodyTalk Access Trainers (BATs) who teach it only in the formal seminar setting. In a class (either in-person or online), there is a tremendous amount of left-brain information that we take in. This information is integrated with the right brain as we repeatedly apply and practice the techniques. The fusion between left-brain information and the right brain's felt sense and holistic perspective is essential in truly grasping the material and experiencing results. When we attend a BodyTalk Access class, our ability to become clear observers of everything we are experiencing is enhanced. Our awareness literally becomes more fine-tuned, so that through our focus and observation, a shift is experienced in the client or in ourselves.
Briefly having someone show you how to do the BodyTalk Access routine without going through a full class--practicing repeatedly and having the proper explanations for each technique--creates a far greater chance of doing it incorrectly, forgetting it over time, and not sticking with it. If you demonstrate a BodyTalk Access session online that is recorded, it is easy for people to think they now know how to do the routine. However, without the foundational course knowledge and inclusion in the BodyTalk matrix that comes from taking a course, they are unlikely to see the same results and thereby discount BodyTalk as being ineffective.
We have seen that some CBPs or BodyTalk Access Trainers (BATs) are presenting BodyTalk Access over Facebook Live or other platforms and broadcasting this to the general public. There have also been requests to record the BodyTalk Access sequence and post the videos publicly. Please remember you cannot record the BodyTalk Access protocol or a BodyTalk Access session to share with others or distribute in any way. CBPs may perform the BodyTalk Access protocol on others or on themselves, however, they are not to lead people through the BodyTalk Access routine. The BodyTalk Access protocol is only intended to be learned in the BodyTalk Access class for the reasons stated in the paragraphs above.
So what can you do to help others with BodyTalk and BodyTalk Access?
You may offer group remote BodyTalk sessions in a live format where the Access routine comes in as a "Plug-In" without going through every single detail.
You may offer live group remote sessions where you do Cortices with everyone as a group, then tell them you will go offline while you do additional techniques to manage their stress, boost hydration, enhance their immune system, and restore their balance and a general sense of well-being.
You may offer BodyTalk Access sessions to friends, loved ones or anyone you know who could benefit either in-person or online, so long as nothing is being recorded and you are performing the technique on them rather than guiding them through the technique.
Note that BATs who offer follow-up study groups to their BodyTalk Access students may still record their study groups and share them with their own seminar graduates so long as the students have formally agreed to use them only for study purposes and have expressly promised not to share or distribute them.
We appreciate your support in helping to maintain the strength and effectiveness of BodyTalk Access. Your help in upholding the integrity of this powerful system as we transition into online teaching is essential. Thank you so much for all that you do, spreading your love of BodyTalk and BodyTalk Access to all who need it. We've never needed this work more than the world needs it now.
Warm regards,
John and the IBA Staff
Find a BodyTalk Access Course

Print this Article |

Facebook |

Twitter