IBA announces the business engagement of Harqui Eventos of Brazil
Printed from http://www.bodytalksystem.com//learn/news/article.cfm?id=606 on Jul 01, 2022.
Jan 07, 2011
IBA is happy to announce that effective immediately, we have entered into contract with Marta & Rosane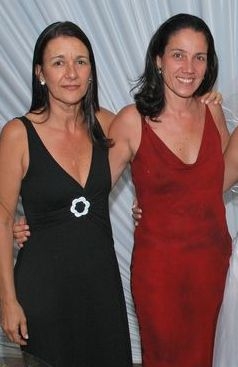 Ferreira who have been engaged to assist in serving and growing our Brazilian members with membership registrations, yearly renewals, Portuguese manual orders, and limited product distribution.
Members and students may contact Marta and Rosane through their business, Harqui Eventos, or continue to be served through the IBA website, whichever is most convenient in meeting the individual's needs. Below is Marta's and Rosane's business phone and mailing address information:
Marta & Rosane have served the IBA in years past as coordinators for seminars and events such as our recent PaRama Unit 1 live session course held in Rio de Janerio. We are pleased that they have accepted to offer their business services to help us better serve the Brazilian members with membership related inquiries, registrations, renewals and course material purchases.
We look forward to the opportunities and benefits that this business relationship holds for our Matrix and our Brazilian membership. Welcome Marta and Rosane, and thank you in advance for a bright horizon of serving our Brazilian members and growing with us.
-IBA Management Team
**Portugese Translation**
IBA tem o prazer de anunciar que fechamos um contrato com Marta e Rosane Ferreira que têm se empenhado em ajudar a servir e a aumentar os membros no Brasil com registros de filiações, renovações das mesmas, encomendas de manuais e distribuição de produtos limitados.
Membros e estudantes devem contatar Marta e Rosane através de sua empresa, Harqui Eventos, ou continuar a serem atendidos através do websita da IBA, o que for mais conveniente para atender às suas necessidades. Veja abaixo as informações para contato:
Harqui Eventos
Endereço: Estrada Velha da Tijuca, 38/301
Tel/ fax.: 21 22586933
Celular: 21 88631615/ 88311516
Contatos: Marta Ferreira, Rosane Ferreira
Marta e Rosane têm ajudado a IBA nos últimos anos como coordenadoras de cursos e eventos como nosso recente curso PaRama Unit1 realizado no Rio de Janeiro. Estamos satisfeitos por elas aceitaram a nos ajudar a servir melhor os membros brasileiros com as questões relacionadas às filiações, inscrições, renovações e compra de material dos cursos.
Estamos animados com as oportunidades e os benefícios que esta parceria de negócio trará para nossa Matriz e para a nossa Associação brasileira. Bem-vindas, Marta e Rosane, e agradeço antecipadamente por aumentar nossos horizontes dando suporte aos membros do Brasil e crescer conosco.
IBA Equipe Gerencial

Print this Article |

Facebook |

Twitter