BodyTalk Philippines: Year 3- From a Child to a Congressman
Printed from http://www.bodytalksystem.com//learn/news/article.cfm?id=715 on Jan 17, 2022.
Jan 20, 2012
By Dorothy Friesen
In addition to BodyTalk Access and BodyTalk Fundamentals classes this year, we are also meeting with some members of the Philippine Congress and their aides to present the BodyTalk System and to advocate for Access to become part of the government community based health programs. One progressive congressman, Walden Bello has been especially supportive for Access outreach pilot programs in rural areas.

Thanks to the Be Healthy Foundation financial support, Access grads of 2009 and 2010 are reaching out to provide Access clinics over a period of several months in four different areas –

1. Communities affected by toxic wastes

2. An urban drop-in centre for street children in Davao City

3.A rural farming community near Davao City

4. For survivors of the recent typhoon that killed 2000 people with another 1000 missing (presumed washed out to sea).

Meanwhile Access use is quietly growing among children. Martin, the BodyTalk Wonder Kid of Batangas City learned Access from his grandmother two years ago and uses it for himself, he teaches it to other children and also applies it whenever someone is in need, including one of his school teachers.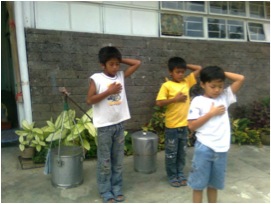 Martin the BodyTalk Wonder Child of Batangas City, Philippines and his friends tap out their cortices.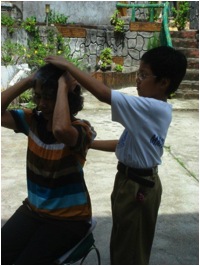 Martin the BodyTalk Wonder Child of Batangas City taps out his school-teacher.

Print this Article |

Facebook |

Twitter