Congratulations Loesje Jacob! Newest Trainer of BodyTalk Access for Animals Trainer.
Printed from http://www.bodytalksystem.com//learn/news/article.cfm?id=722 on Jan 17, 2022.
Feb 17, 2012
By Sylvia Muiznieks, Sr CBI
It is with great pleasure that I announce that Loesje Jacob has achieved the designation of Trainer of BodyTalk Access for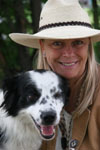 AnimalsTrainers. Loesje, an AdvCBI who lives in Armstrong, British Columbia, Canada, has extensive experience working globally with domestic and wild animals. Her passion is teaching others how to communicate and care for animals using the techniques in the Access for Animals and BodyTalk for Animals courses.
As part of an approved IBA pilot program, Loesje will begin training CBPs (who have met the course pre-requisites) in a group setting format to become BodyTalk Access for Animals Trainers. This modified teaching format will provide the framework to expand the outreach of this program. These outreach efforts will result in increasing the number of BAATs so more animal owners will be exposed to the effects of BodyTalk – on both their animals and humans (including themselves).
The first group training will be held from May 25 to 29, 2012 in the Okanagan Valley, B.C. More information on the prerequisites, training details and financial obligation are pending standardization review and will be available in the members download area soon.

Print this Article |

Facebook |

Twitter