Health Empowerment Through Consciousness – Its Possible!
Printed from http://www.bodytalksystem.com//learn/news/article.cfm?id=724 on Jan 27, 2022.
Feb 17, 2012
By Dave Huff & Nicole Fisher
Ontario BodyTalk Association Symposium: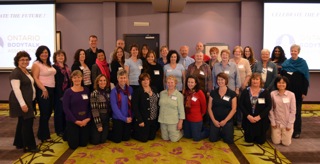 Wow! What a day. With a big learning curve and relatively short notice, the Ontario BodyTalk Association's Inaugural Symposium was enjoyed by thirty-two BodyTalk enthusiasts who celebrated the future of BodyTalk in Ontario. It was a day of fun and excitement, rekindling old friendships, creating new relationships, and opening ourselves to new perspectives. Six presenters helped us experience our role in the concept of 'Consciousness' and how it applies in our business and personal lives. Each presentation wove together and culminated in a brilliant physical display via a multi-practitioner session on the Ontario BodyTalk Association matrix. We all left knowing that we are each leaders in the movement to create a society where all are empowered to be changes we want to see in our communities.
Since the 2011 symposium, the wave of momentum and community activity has greatly accelerated. For the OBTA leadership, this includes getting ready for the next symposium – 'Health Empowerment Through Consciousness – It's Possible!' The 2012 symposium is set for September 29 in Toronto and is open to anybody who has taken at least one IBA recognized course. Mark your calendar, sign up online and remember – the only limits that exist are those you place on yourself. Anything is possible!
Shine brightly,
Dave Huff - President
& Nicole Fisher -
Vice-President

Print this Article |

Facebook |

Twitter