Integrity
Printed from http://www.bodytalksystem.com//learn/news/article.cfm?id=726 on Jan 27, 2022.
Mar 02, 2012
By Isabel Welch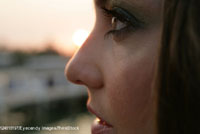 I want to share my experience of Integrity during BreakThrough Step 3, my understanding of the Integration, the you in me, the me in myself, and both in Self.
During the process of Step 3, I breathe and breathe, like during the contractions in labor, only me can push! First I am like the barking dog-defending my precious belief- the blame is out, then I realized that the behaviors are in me, and I start blaming myself. The instructor requesting to stay with her, and suddenly I am, and from there I hear my little voice saying: ''I take full responsibility ''I do, I do have a voice. I repeat, and repeat, I am taking responsibility for my behaviors, and suddenly, it happens, my own listening of my voice merges into one, it integrates.
I imagine it is like a sink full of water, I open the tap, water spins out, in Step 3, the space created, the blame goes 'down the drain', pointing with my heart finger, the blame energy fading, vacuumed. There is a new space where I respond to life, not as a victim but an Integrated Self.
A wholly place, where I embrace the words I don't want to hear, embracing my humanness my loneliness my power. Such an alien place, I am not used to be there, in that powerful, edgy moment of self-love, painful and liberating, ready from there to ride onto the next Steps, what a trip!
Oh, no idea what happens during the trip, I only know that I see the whole picture, feel love and gratitude at Step 7, so that is it.
I aspire to live my life from Step 3, this place of Integrity. Something in me knows that, whatever, life itself is bringing us there, to Integrity, to wholly human. I will forget this, life's clever way, overreact to it, to get there, miraculous spinning.
Thank you to the ''midwifes'' Instructors who work on my story, remind me to breath and push, and help me to be aware of Self and life itself, to facilitate this view of Integrity to arise in me, to my mamá, papá, to all.
________________________________________________________________
(Article in Spanish)
Quiero compartir mi experiencia de Integridad en el Paso 3 de BreakThrough, lo que entiendo por Integro, tú en mí, yo en mi misma, ambos en el Ser.
Durante el proceso del Paso 3, respiro y respiro, parece la respiración del parto, solo yo puedo empujar! Primero, soy el perro ladrador, defendiendo a toda costa mi preciada creencia, la culpa está fuera, luego me doy cuenta de que las formas de comportarse están en mi, y empiezo a echarme la culpa. La profesora me pide Estar con ella, y de repente lo estoy, y desde ahí, oigo mi vocecita 'tomo responsabilidad', pues si tengo voz, tengo voz, y repito y repito lo mismo hasta que de repente me oigo de verdad. Mi voz y lo que escucho se convierten en una sola cosa, se integran.
Me imagino es como una pila llena de agua, cuando quitas el tapón, y el agua se va, en este Paso 3, el espacio creado, la culpa se va, es como señalar con el dedo corazón, la energía de echar la culpa se difumina, se absorbe. Hay un espacio desde el cual puedo responder a mi vida, no como una victima, pero como un Ser Integral.
Un espacio entero, donde abrazo las palabras que no quiero oír, abrazo mi humanidad, mi solitud, mi poder. Que sitio tan extraño, no tengo costumbre de estar ahí, es poderoso, como un acantilado donde te amas, a la vez doloroso y liberador, lista para saltar y dar los siguientes pasos, menudo viaje! No tengo ni idea qué pasa durante el viaje, lo único que sé es que en la Paso 7 siento amor y gratitud, así que qué más da, es eso.
Me gustaría vivir mi vida desde el Paso 3, este sitio Integro. Algo en mi, me dice que, no importa, la vida en si nos lleva ahí, a Integridad, a humano completo. Y me olvidare de esto último, para llegar ahí, me pasare y exagerare, como una peonza milagrosa.
Gracias a las 'matronas' instructoras que me asistieron con mis cuentos, me recordaron de respirar y empujar, y me ayudaron a ser consciente de mi Ser, de la vida misma, de la visión de Integridad, a mi mamá, papá, a todos.

Print this Article |

Facebook |

Twitter