BODYTALK AT THE TOTAL HEALTH SHOW in Toronto ..... BUZZzzzz was the word!
Printed from http://www.bodytalksystem.com//learn/news/article.cfm?id=745 on Jan 17, 2022.
Jul 06, 2012
By Lena Mascarin RNCP, CBP
Exciting news to report and update on our presence and participation at the largest health show here in Toronto. The Total Health show is Canada's premier national health show. This show attracts over 20,000 attendees each year. The show is sponsored by the Consumer Health Organization of Canada and integrates complimentary and natural medicine.
What a wonderful and successful two and a half days we all had. Our booth was buzzing with excitement and interest in BodyTalk! Woo Hoo.....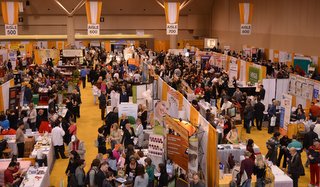 We greeted, talked about BodyTalk what it does and how it works, did mini BodyTalk sessions, 'Fast Aid' and handed out flyers, pamphlets, and business cards –we tapped and tapped out hundreds of "Cortices"!
Yes my, and our feet hurt, but we were so buzzed with excitement that our smiles and enthusiasm made us forget about our sore feet and legs.
We had in attendance at our booth 13 Practitioners on different days and shifts and this worked beautifully and efficiently! Everything just flowed.
We all reconnected, rekindled friendships united as a Matrix and shared wonderful moments together laughing and bonding as Practitioners and friends. Lots of Love too! I would like to thank each and all of them for participating with me this year. It was an experience of a life time.
Cherie Carpenter, AdvCBP, CBAT, CBI was a speaker at the show and did an Interactive Talk and PowerPoint presentation 'Is your Body Dying to be Heard?' The area was packed with eager people wanting to learn the Cortices Technique and hear more about The BodyTalk System™.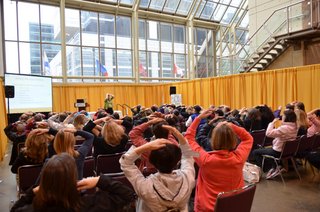 After the presentation, many came over to the booth to talk with the Practitioners and sign up for a free BodyTalk draws and collect more information from the display on the tables.
I must admit our booth stood out and shined like a beacon, hundreds and hundreds of people came through.
All in all we were totally pleased with the experience and the attraction the booth gathered. Buzz was the word.
Hurray for BodyTalk at the Total Health Show it was AWESOME.
Looking forward to next year!
Lena Mascarin RNCP, CBP
Coordinator for the show
Cert. BodyTalk Practitioner
Holistic Practitioner
Registered Nutritionist

Print this Article |

Facebook |

Twitter