Philippines Update: BodyTalk Access Outreach
Printed from http://www.bodytalksystem.com//learn/news/article.cfm?id=754 on Jan 17, 2022.
Aug 03, 2012
By Dorothy Friesen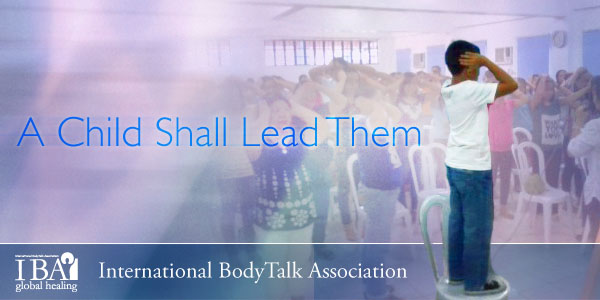 In the image above, Martin, the little boy on the chair, is demonstrating all 5 BodyTalk Access techniques to the teachers of the St Bridget's College elementary school in Batangas City on the island of Luzon, in the Philippines. The teachers will use the cortices with students in their classrooms. Martin learned the techniques perfectly from his grandmother, Susan Bulanghui, (woman holding the microphone in the picture.) Martin uses Access daily for himself and has taught it to his school mates, and sometimes does Fast Aid for a teacher who requests it.
Philippines Update: BodyTalk Access Outreach
Davao City
Chic Ramoso, BodyTalk Access Outreach coordinator in southern Philippines, has organized a series of clinics to reach out to poor communities and to give recent Access grads an opportunity to practice their techniques.
In June, 2012 BodyTalk Access was offered to SKKJ, an organization of former overseas women workers in Japan with Japanese-Filipino children abandoned by the fathers. These women, managing to survive despite all odds, are either unemployed or under-employed and have banded together to work for the promotion of their rights & welfare, especially for their Japanese-Filipino children. The 30 women meet monthly to share their concerns & how they cope with day to day problems.
At the Center for Overseas Workers Office, Chic Ramoso gave a brief talk about BodyTalk Access and how effective it is as an energy medicine. A power point presentation of Dr. John Veltheim demonstrating cortices was shown to the group and then Chic demonstrated access on one of the women. After the Access technicians, Chic did the full Access program for the women, the group was taught how to tap out their own cortices. As a result, two women who were not feeling well, experienced a sense of well-being and one who had a headache felt better after the Access session. A lively exchange of ideas ensued during merienda (refreshments) of suman, puto and bibingka, all native rice based delicacies. The women were given their transportation expenses, and another access session was scheduled for July.
Chic writes: "Our prayers of gratitude to Janet Galipo who helped fund our BTA Out-Reach Program. Blessings & more."

Print this Article |

Facebook |

Twitter