Members Conference
The International BodyTalk Association hosts a biennial Members Conference that all current Members are invited to attend. The main conference is typically in August of odd-numbered years in the Tampa/Sarasota, Florida area. On even years, there may be smaller, localized conferences or learning forums available world-wide.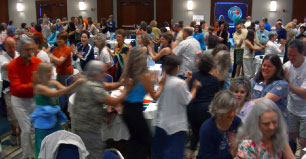 Audience activities and participation makes conferences fun and engaging.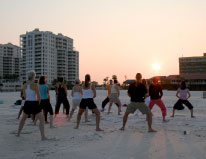 Beach Yoga Class at sunrise gets these members ready for the day.
Our 2009 Members Conference will again be held on the beach at the Hilton Clearwater Beach Resort. Our keynote speakers will be Jungian psychologist, Dr. James Hollis, and renowned physicist, Dr. Amit Goswami. Become an IBA Member and join us at this exciting event and get to know your new IBA community.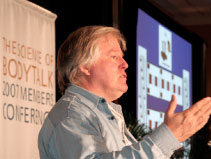 James Oschman, Ph.D. lecturing at the Science of BodyTalk Conference in 2007.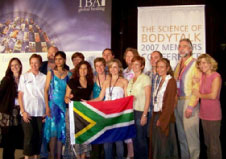 Member Conferences draw representatives from all over the world, including this group from South Africa.