Sandra Wenrich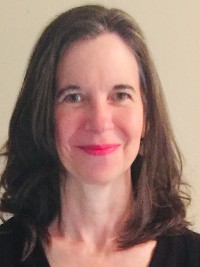 Biography
Sandra Wenrich, Certified PaRama BodyTalk Practitioner, BAT, has been practicing the BodyTalk System of healing since 2001. She discovered this system while recovering from injuries sustained in a car accident. BodyTalk was instrumental in the speed of her recovery. She began her training in the BodyTalk System immediately upon recovery and became one of the first Certified BodyTalk Practitioners in the Portland, Oregon area.
Prior to practicing BodyTalk, Sandra has been teaching and practicing Yoga, The Nia Technique, and various styles of moving and non-moving meditation. She incorporates these practices into her work with her clients in order to support and encourage her clients' active involvement in their own healing process.
She is trained in the application of the The BodyTalk System to animal companions (AnimalTalk).
In preparation to become a Certified BodyTalk Access Trainer, during the spring of 2006, she conducted an experiment at the Living Wisdom School in Beaverton, Oregon. Over an eight week period, students and teachers were given Access sessions twice a week. Below are a few remarks from the participants:
"BodyTalk really helps a lot of things, like math, recess, art. It helps my mind work out things. BodyTalk is an all around helper." 5th grade girl
"BodyTalk helped me in many ways. Like for instance it helped me focus, stay calm and be determined. I wish we could do it again." 5th grade boy
"I felt calm, centered and an increased clarity of thought on the days we received Access sessions." Teacher
"My daughter likes your program. She has been happier and has adjusted more easily to the many life changes currently taking place in our family." Parent
In April 2021, Sandra launched a new offering supporting teens. Teens are experiencing high levels of stress and anxiety and they need ways to care for themselves that don't require a lot of time to do. Her Wellbeing Reboot classes are FREE. Sandra teaches teens the BodyTalk Cortices technique so they have this powerful tool at their fingertips; helping them to feel calm and clear in only 3 minutes. To learn more about her Wellbeing Reboot, please go to:
http://www.deepharmony.org/well-being-reboot/
"Everyday I am more and more excited about the potential for healing that this system offers to people who are wanting to improve and maintain their health on all levels." Sandra Wenrich
Testimonials:
"BodyTalk contributes greatly to my sense of balance, integration and staying conscious on all levels. Sandra Wenrich is truly gifted at finding the body's priorities for healing and treatment."
Lori Horan, Naturopathic Physician, Licensed Acupuncturist, Lake Oswego, Oregon.
"BodyTalk is a new modality which is beneficial both as an adjunct to conventional treatments as well as a stand alone therapy. I have personally received BodyTalk treatments from Sandra Wenrich and I highly recommend her to all."
Peter Hanfileti MD, Pediatrician Vancouver, Washington.
"The BodyTalk System is one of the most comprehensive energy healing systems I've seen. I've had profound results working with Sandra as a BodyTalk Practitioner."
Patricia L. Nardone Ph.D., RN Perioperative Educator OHSU, Portland, Oregon.
"I love Sandra's work. She is a compassionate and very clear practitioner. Sandra brings tremendous personal experience to her practice. My entire family, from my seven year old to myself have benefited greatly from BodyTalk. Working with Sandra has assisted us in becoming healthier and more emotionally integrated."
Athena Paradise, D.C. Portland, Oregon.