Matthew Rubin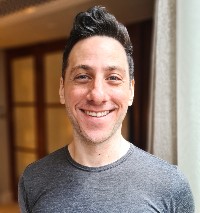 Mr. Matthew Rubin
MSc Biomedical Engineering, BSc, CBP
Clinic
The BodyTalk Centre Singapore
38 Jalan Pemimpin, #03-05
Singapore, 577178
Singapore
Phone: +65 9168 5198
matthewrubin@gmail.com

Biography
Matt is originally from New York and has been living in Singapore since 2011. He holds a Masters Degree in Biomedical Engineering from Georgia Tech (Georgia Institute of Technology). His graduate thesis involved studying the properties of metabolic bone diseases at the cellular level using biomedical imaging and microscopy techniques.
His journey in personal growth began when a close friend encouraged him to join a meditation and energy healing course to help provide insight on some relationship challenges he was facing. This experience forever transformed Matt's life. It awakened him to see his authentic self and his true potential for health and happiness, something he would never have foreseen a few months earlier. This new awareness sparked an interest in him to learn and incorporate various complementary healing systems into his life.
Matt's quest to find a holistic healthcare system that bridges the gap between Western medicine and complementary modalities led him to discover BodyTalk. After only receiving a few BodyTalk sessions, he was intrigued by how the system takes your full story into consideration and determines your body's priorities for healing. BodyTalk has given him a better understanding that the body has its own language and it's only when looking at the whole-person, the emotional, physical and environmental influences, that the true underlying causes of dis-ease can be revealed.
He genuinely feels that anyone can achieve better health as the body-mind-spirit complex is designed and capable to heal itself. BodyTalk simply provides a method for the body's own healing systems to activate, helping to restore equilibrium to our bodies and lives. Matt has witnessed his own health and life balance improve dramatically with BodyTalk, inspiring him to help others on their journey in personal growth. He finds that BodyTalk plays a pivotal part in helping his clients improve overall well-being, enhance awareness and to live life more consciously.
Matt is available for in-person BodyTalk Sessions as well as distant sessions. Along with BodyTalk, he is trained in various spiritual and energy healing modalities and regularly incorporates Western Astrology into his consultations.
If you would like a session or are interested to find out more about BodyTalk, please feel free to contact Matt via Whatsapp at +65 91685198 or via email at matthewrubin@gmail.com
Matt is a Certified BodyTalk Practitioner and has completed the following BodyTalk modules:
Modules 1 & 2: BodyTalk Fundamentals

Module 3: Principles of Consciousness

Module 4(7): BioDynamics

Module 6: Macrocosmic BodyMind

Module 9: Matrix Dynamics

Fascial Energetics 1 & 2

BodyTalk Fundamentals Integration

Body Ecology

Epigenetics

CDRRRII

BreakThrough

MindScape