Celeste Chong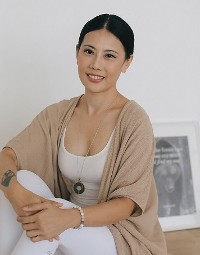 Biography
During her search for the cause of anxiety, Celeste discovered BodyTalk and had a first peek into her inner world. Celeste is a firm believer that unprocessed trauma, emotions, and stress are huge contributors to dis-eases and discomfort. With BodyTalk, inner work, meditation and sound healing, she navigates her journey home. Through her experience she helps others slow down, sink into their hearts, turn their attention inwards, and discover self. Because Happiness is an inside job.

Celeste is also a certified Gong Practitioner and Cacao Ceremony Facilitator. She facilitated sound baths and cacao ceremonies at COMO Shambhala Singapore, before moving into her own pop-up relaxation sound bar at The Great Room Raffles Hotel Arcade where she is currently based.

Celeste learnt how to facilitate a Cacao Ceremony from her teacher Joseph White Owl, who is one of the Indigenous Peoples of North America. He has combined aspects of his Nations culture and other learnings within the Cacao Ceremony. They met in Bali where he has been living for the last 4+ years, facilitating hundreds of Sacred Cacao Ceremonies at the Pyramids of Chi in Ubud. The Cacao Ceremony that she facilitates has been co-created under Joseph's guidance.

Read her story here.
Celeste offers Distance Bodytalk Healing sessions and In-person Bodytalk with Sound Bath sessions (on weekends).

Other Courses:
Mindscape

Munay Ki Rites Initiation

Integrative Vibrational Therapy Level 1 (Himalayan Singing Bowls and Gong Foundations)

Shamanic Extraction Healing

The Way of the Shaman: Shamanic Journeying, Power, and Healing
Yin Yoga 50HR