Trish Unger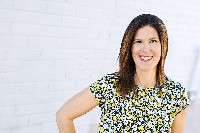 Biography
I have a Bachelor of Arts in Psychology from the University of Waterloo and soon after graduation, started my studies and opened my first business as a childbirth educator and birth doula. After 16 years in the birthing industry I switched gears to private practice as a holistic health practitioner.
I studied at the Canadian School of Natural Nutrition and the Institute of Natural Health Technologies to become a Registered Holistic Nutritionist and Registered BIE Practitioner in 2011. In early 2019 I was introduced to the Body Talk system and I got hooked immediately. I worked to meet all the qualifications to become a Certified Body Talk Practitioner and I continue to pursue further education in the Body Talk system as well as monthly webinars to keep on top of the latest findings in BIE.
My practice in Uptown Waterloo has been evolving and thriving since 2011 as I continue to further my education and learn more about both myself and our fascinating bodies and minds.
My goal is to empower and support my clients toward their health goals and to deepen their understanding of their own role in healing.
Let's work together to optimize and energize your health!