Bernice Granger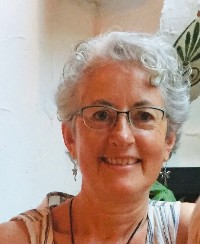 Bernice Granger
B.MSc., RM, MLT(ret), CBP
Clinic
Distance Sessions Available

Parksville, BC
Canada
Biography
Experience BodyTalk in the Comfort & Safety of your Home
*Distance Sessions Available*
Biography -See Below
BodyTalk for You
BodyTalk Sessions are grounded in the latest discoveries and understandings of science, consciousness and ancient wisdoms. These include quantum dynamics, anatomy & physiology, and ancient wisdoms such as eastern medicine. For example, there are the five elements, meridians, chakras and life force called Qi (Chi).
BodyTalk is done specifically for you. What is your body ready to release? Feel a release from the stressors in your life. Allow your body to let go of aches and pains. Let your Bodymind communicate, update and support your cells and tissues to do the job they were created to do.
Highlighted and spoken of for you, are the many health and wellbeing possibilties that your Bodymind is looking to make happen.
Testimonials
I have received several distant BodyTalk sessions with Bernice.
She has a gentle, caring manner that makes me feel special. Bernice totally honours and respects every part of you and truly supports what you may be going through, whether physically, mentally or emotionally. After each session my body feels free and revitalized. I highly recommend Bernice. Joy B, Parksville BC
I had two Body Talk sessions with Bernice and I could feel the beautiful energy clearing that she brought to bear. She was also insightful in uncovering the root cause of issues. I have known Bernice for a number of years and have had her do other healing modalities with me as well as card readings. It's wonderful to be in the hands of a practitioner with many tools in their toolbox and I think Bernice is able to bring all of this talent to her work. I would encourage anyone to explore their healing path with Bernice. She is a beautiful, kind hearted woman as well as being very capably skilled.
Rita M. Vancouver Island BC
Bernice is a truly gifted BodyTalk practitioner! Each session I have with her is a gift and really helps me to release the things that I'm holding onto that are ready to heal. Her knowledge, coupled with her intuitive strengths and her gentle nature have been helping me to feel lighter, much less stressed and more ready to take on the world each day. I've been able to release several old beliefs that were causing physical pain and stress, some even being ancestral in origin. I highly recommend Bernice!
Catharine D.
Biography
Bernice Granger started her study and exploration of complementary medicine with Healing Touch in 1997. This opened up a new world to her exploring mind. She has spent years of studying and experiencing energy healing modalities and spirituality. During this exploration she helped raise her two sons and worked as a Medical Laboratory Technologist.
She was introduced to BodyTalk in 2016. She knew it was her next step. She certified in June of 2021, the choice became an easy one when she found the fastest changes in her life had happened from the BodyTalk sessions she had received.
Her background as a Medical Laboratory Technologist coupled with her long history of facilitating energy medicine, and years of healing & self-development greatly influences and enhances the BodyTalk sessions for her clients.
Bernice's compassion and inborn talents of intuition and facilitation, provide a very safe and comfortable healing space. She greatly respects everyone's path, beliefs and life experiences. She strongly believes the time together is one of service; she is here for you.
For an appointment email: btalkwithbernice@gmail.com
Phone or text: 250 809 5168
Educataion
BodyTalk Fundamentals (Mod 1 & 2)
MindScape
MindScape for BodyTalkers
Epigenetics for BodyTalkers, Levels I,II,III
- the science and application of Epigenetics for use in BodyTalk
Hormones and Neurotransmitters
Principals of Consciousness
Vaccine Reset for BodyTalkers - used to help decrease adverse reactions to vaccines
Elemental Reset - based on Chinese medicine, The Five Elements
Past Education
Medical Laboratory Technologist, CSLT Canada, (retired) - MLT
Bachelor of Metaphysical Science, Ordained Minister - B. Msc. - International University of Metaphysics
Munay-Ki - Foundation Rites, taken in 2013 - The Four Winds Society "The Munay- Ki is your invitation to dream an entire new world into being." (Alberto Villoldo, Founder)
Certificates:
Healing Touch, Levels, I, IIA, IIB, - Colorado Center for Healing Touch Inc.
Reconnective Healing® /The Reconnection®
Advanced Angel Empowerment Practitioner ™ And Certified Medium
Reiki Master - RM - Pure Source Channeling Reiki - Usui/Tibetan Reiki Ryoho
Bernice has attended a 13 month mentorship program on esoteric spirituality and loved based, authentic self-expression. She has attended many week long retreats, weekend workshops, and other programs separate from the above mentioned courses. She has facilitated talks and workshops.
Bernice believes the road to the best possible expression of Self, optimum health and wellness, has many paths and she respects that each of us is living our own unique path and journey.
I look forward to serving you! ~ Bernice G.
"You find your true Self in the Light and the Love of Your Heart and Soul."