Sally Jane Kingsley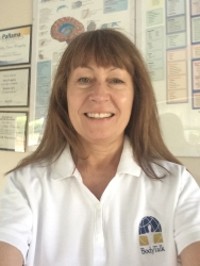 Sally Jane Kingsley
Dip ITEC, CBP, Parama BP
Clinic
Essence of Life
South Wimbledon
London, SW19 1JF, Click on my name for more details
UK
Phone: 44 0 7968 948454
essence-of-life@btconnect.com

Biography
I work throughout the week, including
evenings and some
Saturday mornings, in my
Clinic in South Wimbledon.


Using Mindscape techniques I can also offer remote sessions, with the telephone, an update from an email, or using Skype.


For animals it is best if I can see them in their home.
If this is not possible, I can offer remote sessions.
It is a great help to the animals
if owners receive BodyTalk too.


For more information and appointments please ring:

07968 948454
Skype: sally.j.kingsley

Notice-board
Articles published:
IBA Global Healing Newsletter Nov 6 2015 - Seeing is believing - A BodyTalk Case Study
"Positive Health" Magazine, May 2007 issue 135

"Healing Today" issue 98, 2005.

Testimonials:

I do realize every day that I am feeling better, I am even managing to smoke less.

Corne Labuschagne, Service Delivery Engineer
20 May 2009
"BodyTalk has greatly improved my asthma and reduced my dependence on inhalers. Prior to my first BodyTalk session I regularly woke up in the evenings having to use my inhalers - that is no longer the case. My general mood has also improved and I am a much happier person!"

Suzaan Theron 9.11.07



Since I started having BodyTalk sessions, my overall health and well-being have improved. My immune system is much stronger. I don't get sick as much & am more able to deal with stress.

Claire Church 26.10.07



I'm sure my body knows exactly what it requires to return to optimum well being & Sally's BodyTalk skills & abilities enables this to happen, as if by magic.
When the session's over my body feels lighter & clearer. I walk out feeling as if everything is purring inside me.
Sally it's not just BodyTalk, it is the personal skills, abilities & all round knowledge that you add that enhances BodyTalk. You are brilliant.
Thanks for giving me this opportunity to express my gratefulness for your assistance in enabling my whole self to stay on track.

Jocelyn. London 8.9.06

I am a certified BodyTalk practitioner, and have been taught BodyTalk: Fundamentals, Principles of Consciousness, Biodynamics, Macrocosmic BodyMind, BodyTalk for Animals, Matrix Dynamics, Parama 1 and 2 practical, Mindscape and advanced Mindscape, BreakThrough 1, Advanced Module Integration and Structural Integration, Finding Health 1, BodyEcology,The Souls's Journey - Exploring the mind and the three brains, BodyTalk Direct.
I have an ITEC Diploma in Aromatherapy and was healer member of the NFSH healers.
I am a member of the "International Guild of Professional Practitioners" and a member of the "International BodyTalk Association".
I have also studied CranioSacral therapy, Acupressure, and attended Modules 1&2 of the Emmett Technique Practitioner Training.
To further expand my understanding and awareness I practice the "Mindscape" techniques. This encourages a deeper focus and also enables me to offer distant BodyTalk sessions.
Also to deepen my understanding I have studied Advaita Vadanta philosophy which is the philosophy BodyTalk is based on.
I was on the first BodyTalk course in the UK in 2001 and the improvement in my own health and well being, from receiving BodyTalk, prompted me to become a BodyTalk practitioner.