Marzia Kravos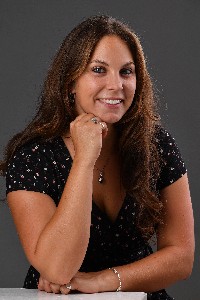 Biography
Marzia Kravos does not fit into any one title.
She is an interspecies communicator, an inspirational purpose coach and a health & wellbeing facilitator.
Marzia guides people on a deep journey of discovering the meaning of their life, their life's purpose, as well as their body's innate wisdom to 'heal' itself.
After fighting through two bedridden years of chronic fatigue and adrenal depletion from age 16, Marzia awakened her courage and vision, harnessing the dedication and determination to live her life with maximum potential.
This led Marzia to gain extensive knowledge and experience in the field of self-development, including an in-depth study of human behaviour, how to maximise human awareness and potential, universal laws, and all things integrative and holistic.
She is now a certified facilitator of both The Demartini Method - a psychology tool with thousands of uses - and The Value Determination Process, a tool that helps people reveal their highest priorities in life and how to fulfil them.
In addition, she is also a certified BodyTalk practitioner (& soon to animal practitioner) - a whole-healthcare system that supports and promotes the wellbeing of any person, animal or plant. And lastly, a Reiki Master for both people and animals.
Having grown up in the wilds of Kenya, Marzia then went on to call the Great Barrier Reef her playground where she became certified as a Scuba Dive Instructor and Disabled Dive Instructor in 2015, aged 18, and has never looked back. She has since moved back to Kenya, living surrounded by nature in breath-taking Tsavo.
Embarking on her career in her late teens, Marzia continues to share her inspirational wisdom through her messages and teachings to the world in all she does. Opening up people's hearts in order for them to wholesomely love and embrace their true authentic selves, as they are the face of divine perfection in this quantum entanglement we call life.