Talya Epstein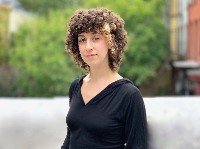 Talya Epstein
CBP
Clinic


Brooklyn, NY
USA
Biography
I am a Certified BodyTalk Practitioner living and working in Brooklyn, New York and a member of the International BodyTalk Association. I bring over 15 years of experience as a celebrated dance artist, performer, and movement enthusiast to my practice. It delights and honors me to facilitate BodyTalk sessions for people looking to move from pain and dis-ease into a place of health and joy.
I first discovered BodyTalk in 2010. At the time I was consistently fatigued, pumping coffee through my system to get through the day, struggling with reoccurring auto-immune disfunction in which my hair was falling out (alopecia areata), and was deeply closeted about my own sexual identity. After receiving my first session, I felt a subtle sense of ease and relief throughout my entire being, as though something deep in the bedrock of myself had shifted—it felt good! I knew then that I had found the holistic healthcare system for which I had been searching. BodyTalk has been my primary health and wellness go-to ever since.
In addition to BodyTalk, I have built up an eclectic base of psychosomatic knowledge and embodiment practices that allows for me to view body and consciousness through a multitude of lenses. My work continues to be informed by my engagement with Authentic Movement, breathwork, dance improvisation, energy work, experiential anatomy, Feldenkrais Method, fractals & nature, imagination & visualization, meditation, MindScape, Qigong, psychoneuroimmunology, Traditional Chinese Medicine, voice work, and yoga. I am also a certified Pilates instructor through The Kane School of Core Integration and hold a Bachelor of Fine Arts in Modern Dance from The Boston Conservatory.
I understand that asking for support and seeking a way out of pain presents challenges and vulnerabilities. Creating a grounded, judgement-free healing space is my top priority, so that I can serve all people, especially those living with disability, the elderly, BIPOC communities, and LGBTQIA/gender-variant communities. Every time I witness a client aligning with their personal power, I am reminded just how exponentially radiant human beings are. I love sharing the BodyTalk System and look forward to facilitating one-on-one sessions to nourish your potential for health.