Crystal Sayers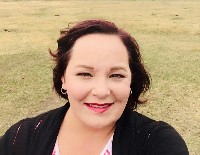 Biography
Hi there!
I'm Crystal Sayers and I am a Certified BodyTalk Practitioner, International Speaker, Intuitive Reader and Transformational Coach. It is my great privilege to help you reclaim your health, joy, energy and vitality while discovering your passion and purpose so you can maximize your full potential and live the life you truly desire.
(See what clients have to say about BodyTalk at the bottom of the page)
I came across BodyTalk in April 2020 while doing several weeks of research on natural health and healing. I was looking for a career change but knew I still wanted to work with people and to help them find healing on a more holistic level. In addition to this, I was burnt out mentally, emotionally and physically. I was stressed out, had very little energy to do anything and I had a very short fuse which led me to be reactionary to any changes in my life and environment. My husband and I also had some health issues that were not getting resolved to the degree that we wanted them to be. We had just moved and had several significant life changes within a short time and I felt like I needed to find some answers and to get to the root of the issues. I was grieving many losses we had experienced, but particularly the loss of my happy, joyful self. I hated who I had become as it wasn't the real me. I found a Certified BodyTalk Practitioner in Calgary, Alberta, and after chatting on the phone we scheduled my first distance BodyTalk session which was amazing! I felt a lot lighter, more joyful and a greater sense of wellbeing. After that, I was hooked! I decided to take a one day BodyTalk Access course to get some more tools to help myself and to see if I wanted to head in this direction as a possible career change. The course was great and within one to two weeks I noticed that approximately fifty percent of my stress, anger and low energy was gone! After that, I went on to take more courses and was certified as a BodyTalk Practitioner through the International BodyTalk Association. Since then my health has continued to improve. My relationships have improved. I have less pain in my body and I am my happy, joyful self again!
Prior to becoming a Certified BodyTalk Practitioner, I worked for twenty years mainly in the non-profit sector in Calgary, Alberta, Canada. I have had the opportunity to work with and form unique connections with the homeless, those struggling with addictions, mental illness, special needs and women exiting sexual exploitation. Assisting people of all ages, cultures and backgrounds while working in management positions as well as one to one with clients has been a common thread throughout my work in the non-profit sector. Many experienced significant hardships and much trauma. Being a part of their journey and seeing their growth and resilience as they took steps to let go of the past and move forward with their lives was very inspiring and life-changing.


During my time in the non-profit sector I completed a Professional Life Coaching Course through Erickson College in Vancouver, BC, Canada. I also received my certification as a Leading From Your Strengths Facilitator through Ministry Insights in Phoenix, Arizona, USA. I have used both trainings in my work (paid and volunteer) and conducted workshops to help individuals and teams understand themselves, those they work with and the value they have to offer. This assisted them in being more effective communicators and teammates, therefore becoming more efficient in their workplace. The combination of Life Coaching and the Leading From Your Strengths personality profiles has been a very useful tool for couples, relationships, teams and individuals.


I also spent close to ten years overseas volunteering and working with an organization called Youth With A Mission in Perth, Australia. During this time, I assisted with several leadership roles including teaching, training and leading teams of youth on field assignments within Australia, Africa and Asia.


Currently I reside in Calgary, Alberta, with my husband Daniel. I enjoy travel, singing and chocolate.


I would love to be a part of your health journey and would be happy to schedule a complimentary 20 minute consultation to discuss your needs and how BodyTalk can accelerate your healing!

Certifications And Courses Taken:
Certified Body Talk Practitioner, Access BodyTalk, BodyTalk Fundamentals (Modules 1 &2), Fundamentals Integrated, Principles of Consciousness, MindScape, Mindscape For BodyTalkers, Epigenetics 1 & 2 and Bio-Dynamics (Mod.4) with the International BodyTalk Association, USA
Professional Life Coaching Course - The Art And Science Of Coaching (Modules 1-4) at Erickson College, Vancouver, BC, Canada
Level II Certified in Leading From Your Strengths (LFYS), Ministry Insights, Phoenix, Arizona, USA
Leadership Training Certificate, Youth With A Mission, Perth, Australia
Trauma Informed Training Certificate, Calgary, Alberta
Human Trafficking Training Certificate, Calgary, Alberta
Diversity and Inclusion Certificate, Calgary, Alberta
Aboriginal Awareness Certificate, Calgary, Alberta
Harm Reduction Training Certificate, Calgary, Alberta
Safetalk and Assist Suicide Intervention Training, Calgary, Alberta
What Clients Have To Say:
"I have seen Crystal several times for individual Body Talk sessions. She has helped me with pain, headaches, and insomnia. I have nothing but positive things to say about our work together. With her knowledge and intuition, there is an ease and flow to our sessions. I greatly value our time together. I highly recommend Crystal for all sorts of imbalances. I trust her completely. Please consider working with her!" Dr. Leslie Deems, DACM, LaC
"I started having distance BodyTalk sessions with Crystal last May. I have struggled with Fibromyalgia, Chronic Fatigue, thyroid issues, severe back pain after several surgeries, diabetes, anxiety and panic attacks for many years. After my first session I felt very relaxed and calm. That night when I went to bed I slept for over 6 hours straight which was unusual for me because normally I slept very little each night and woke up every hour. Upon waking I felt really good and was refreshed for the first time in years! Later that day I noticed that my mood was better than usual and that I had a significant increase in my energy levels. I had no pain for over 24 hours and no need for any pain medication which had never happened before!
The items that have come up in our sessions have been accurate and insightful and I have been able to release issues from the past in safe space without judgment. My journey of health and healing has been challenging but I look forward to each session with Crystal as I am experiencing positive results. Crystal is caring and thorough and I feel confident in her as my BodyTalk practitioner."
Denise, Business Owner
"At first, I wasn't sure what to expect from BodyTalk but I was pleasantly surprised! My BodyTalk sessions with Crystal have given me increased focus and have been a source of renewal for me. In the past I held a lot inside and I struggled to open up about things. BodyTalk has helped me let go of emotions and past trauma in a healthy way. Each time I go, I feel like a weight has been lifted off my shoulders. My relationship with my wife has improved considerably. I have been able to grow closer to her and I feel more secure in my ability to communicate with her. I also feel that I have grown spiritually, and I am thankful I tried BodyTalk."
Dan, Farrier (Blacksmith)
"I've received distance sessions from Crystal and all have been amazing! Her sessions are comfortable and convenient, and she has the same perception as if we're in the same room! She creates a safe space to bring balance to my mind, body and spirit. Crystal has helped me in my health journey to become a better version of myself, and I am so grateful." Anissa, Registered Nurse


"I started having BodyTalk sessions with Crystal about 6 months ago mainly because I needed help working through some long-standing issues related to a mental illness I was diagnosed with approximately 14 years ago. Over the years I have had bouts of psychosis, paranoia, and hallucinations. I have been moody and would often withdraw and isolate myself from others. During times of psychosis I would be easily agitated and paranoid particularly regarding the people I loved and cared about the most.
After each BodyTalk session I have had a breakthrough which has been so encouraging. Some of the results I have had from BodyTalk sessions are: more confidence and self-esteem, I'm happier and have less anxiety, mental and emotional healing, clearer and more positive thinking, not feeling so overwhelmed by my thoughts, more good days than bad days, a significant decrease in the length of time in paranoia and psychosis (I am noticing and more often am able to put a stop to what is triggering the paranoia and psychosis. I haven't been able to do that before), my relationships are better and I am learning to communicate in a calm manner, my breathing cycle has improved significantly and is less labored and I've also had a decrease in pain levels.
I know I still have a ways to go but I feel like I can get on with my life and that I can look forward to my future. Each time I have a session with Crystal I feel lighter, energized and more clear-headed. Crystal has a calming effect on me and she has a professional and warm demeanor. I look forward to more sessions and more breakthroughs!" Calah
"Crystal is a phenomenal BodyTalker. She was able to get so much detail on me and my children during our distance sessions, which made them more powerful. She is also a very caring practitioner. I would recommend her services wholeheartedly." Yvette, Teacher
"Crystal is a natural intuitive, an excellent listener, and has found her calling as a BodyTalk practitioner. I felt the shifts and changes immediately after my sessions with her and she really demonstrated her commitment to my health with her follow-through emails. She has a big heart and warm personality, and I think this makes it easier to feel comfortable and create the space for healing. Thank you, Crystal!" Linda Marlene Eales, Advanced Certified BodyTalk Practitioner
"I have fibromyalgia, chronic fatigue and IBSC. These limitations have caused stress and many cycles of depression over the years to the point of losing passion for what I do. Since starting BodyTalk, I have noticed a difference in my perspective on life, have had more energy and feelings of passions reignited. I still struggle with energy at times and need wisdom, but I'm so grateful for the differences that seemed like mountains before." Anna, Teacher and Ministry Leader