Ana Karina Smith Cain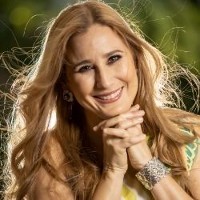 Biography
» Spanish
Hi! I am Ana Karina Smith Cain, from Panama City Panama. Born and raised in the tropics, with a full bilingual education (Spanish-English). I earned my bachelor's degree at the University of Pennsylvania in Communications and Political Science. I've been in high leadership in the airline industry and in the non profit and cultural sectors, while raising four daughters who are ages 10-16 now.
In 2019 I began a journey in shifting my professional career to wellbeing, and am a certified HeartMath Mentor & Trainer. I am also a certified wellness counselor with Cornell University. I also lead organizations in heart-guided transformations through the power of the heart and appreciative inquiry. I am currently a graduate student at Case Western Reserve University studying Positive Organizational Development.
Through my HeartMath work I came to learn of BodyTalk, and immersed myself deeply. My first course was in August 2020 and my March 2021 I became a certified practitioner.
I have also began my journey in advanced modules, while enjoying the great richness that the BodyTalk systems fundamentals offers.
Please reach our to me via whatsapp (507) - Panama - 6820 5359, or email, anaksmithcain@gmail.com