Jacquie McIntyre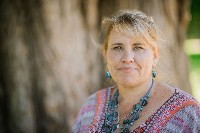 Ms. Jacquie McIntyre
CBP, CBP-A, CBI-A,PaRama BP, BAT, BAT-A,Mindscape, ATI, BAT, CBP-A, Parama BP
Clinic
Available for Interviews and speaking roles
Distance Sessions welcome
Southside, QLD 4570
Australia
Biography


BodyTalk Access for Animals Trainer
BodyTalk Access for People Trainer
Certified BodyTalk Practitioner
Certified Bodytalk Practitioner for Animals
PaRama BodyTalk Practitioner
CBI-A (Certified BodyTalk Instructor for Animals.
Advocating Support | Inspiring Through Knowledge
Jacquie McIntyre is naturally hungry for knowledge and new information. Her lifelong drive to reach the next level of understanding in science and research ensures her approach as a Certified BodyTalk Practitioner and instructor is dynamic and adventurous.
Her global practice offers services for both human and animal clients but Jacquie's entry into the BodyTalk paradigm of practice in 2006 did not reflect that vision.
The profound changes and results that a family member had experienced from a BodyTalk session encouraged Jacquie to book her own session. Her first experience was profound in the level of response she felt in her own body.
Jacquie was intrigued to learn that this complex system could be applied with ease to all members of the animal kingdom and was determined that her BodyTalk practice would not include human clients. With her background and knowledge in animal consciousness and behaviour her intention was to focus on a clinical practice and teaching with the animal kingdom.
Once she started her formal studies in BodyTalk, however, she encountered some immediate major breakthrough moments and couldn't wait to include humans in her practice. The previous resistance she had was smashed and her initial narrow intent was gladly broadened.
Over the subsequent 10 year period, Jacquie's BodyTalk studies and practice has been a constant source of satisfaction and joy. She is passionate about people and guiding them to a 'waking up' of their bodies. Her lifelong commitment and deep love of animals has been transformed into a unique service to establish balance for them as clients and to give them a voice.
There is a balanced core of happiness, bliss and good health that all people and animals seek. Jacquie facilitates the journey back to this core.
In Jacquie's own words:
'I have been waiting my whole life to become a BodyTalk Practitioner, the insights I gain benefit not only myself but engage my clients and me in a dual healing journey'.
Jacquie is available for people and animal sessions, booking an appointment is easy via her website. https://www.jacquiemcintyre.com/book-online
To find out how you can work with Jacquie or join her My Incredible Orbit Academy Community visit https://www.jacquiemcintyre.com/working-with-me
Facebook: https://www.facebook.com/infojacquiemcintyre/
Instagram: https://www.instagram.com/jacquie_mcintyre/