Melanie Halpert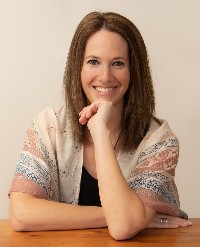 Biography
In-person and remote sessions available
Regardless of circumstance or location, my sessions are geared 100% towards your specific needs
***
For much of my life, beginning in early adolescence, I often turned to escapism and substance abuse to cope with chronic health issues and underlying anxiety. A mix of despair and curiosity eventually led me to explore alternative methods of healing and to discover my intuitive and empathic abilities. In 2001, I embarked on my path to wellness with Reiki and an unexpected new job in the field of natural health. As I went on to manage the natural products department of a highly specialized pharmacy and then to join the administrative team of a progressive wellness center, I began to receive regular BodyTalk sessions from my Reiki Master and experienced such dramatic shifts that in 2006 I enrolled in my first course with the International BodyTalk Association. In 2008 I was certified to practice BodyTalk professionally and by 2010, I chose to branch off from the wellness center to work independently. In addition to completing the core BodyTalk curriculum and PaRama BodyTalk modules along with a variety of other courses offered by the IBA from 2006-2020, Accunect was added to my skill-set in 2013 and remains a most valuable asset. In 2018, a full decade into my healing practice, I started to explore the brilliant synthesis of Human Design in great depth, and am now recognized by the International Human Design School (IHDS) as a Certified Analyst and Living Your Design Guide.
While I deeply honour my roots and strive to uphold the integrity of the multiple modalities I have studied, my intense personal evolution over the years has continually fueled my professional evolution and what I now consider to be a rather unique style and approach. No matter the tools I use, my greatest joy lies in connecting deeply with others, in meeting them exactly where they are, allowing them to be truly seen and heard, and helping them to unravel the source of their pain and suffering on every level. Combining the scope of my natural empathic abilities with the specialized knowledge I've acquired over two decades, the crux of my gift lies in cracking the code of the bodymind's hidden messages, in deciphering the metaphors behind one's symptoms in the aim of facilitating rapid relief. Above all, my passion is to encourage others to recognize their innate gifts, to fully embody their unique expression of self, and to navigate the trajectory of their life from a place of empowerment. For all those who cross my path, I am designed to be a Stranger of Consequence, providing practical solutions in revolutionary times.
With two local offices, I am available to meet in person for private consultation in Montreal or in Kirkland (Quebec, Canada), and am also available for consultation by Zoom, phone, or remotely recorded audio session. I am an official member of the International BodyTalk Association (IBA) and, as a member of the Alliance Professional of Naturopaths and Naturotherapists (APNN) I am able to provide insurance receipts for clients across Canada.
www.melaniehalpert.com