Shirley Smeaton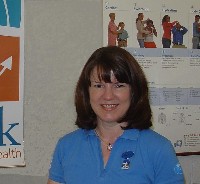 Biography
I've had a longstanding interest in holistic self-care, mainly in the area of energy medicine. My first BodyTalk session resulted in a wonderful sense of clarity and wellbeing, and further led me to want to find out more about this exciting system.
Further BodyTalk sessions permanently relieved me of long-term pain from repetitive strain injury in my neck and shoulder; and revealed and released emotional factors that I had previously been unaware of but which were having a negative influence on my wellbeing. What surprised me was that this simple, gentle, non-invasive therapy could achieve such profound results.
I have been a practitioner of The BodyTalk System since August 2006 and have completed the Advanced BodyTalk modules. I am a Certified PaRama BodyTalk Practitioner and a Practicing Member of the New Zealand BodyTalk Association (www.nzbodytalk.org.nz) and International BodyTalk Association. I continue to study and upskill each year to expand my awareness of this amazing system.
BodyTalk Education Completed:
Modules 1,2,3,4,6,7,9; TCM (Chinese Medicine for BodyTalk); MindScape; BodyTalk Advanced Integration; BodyTalk Interactive; BreakThrough 1; BreakThrough 2; Access; PaRama ; Eastern Medicine; Body Psychology; The Soul's Journey; BodyTalk Direct
Other Modalities I have trained in and incorporate with BodyTalk:
Soul Power Kinesiology; Accunect; Aura Soma; Quantum K; First Light Flower Essences of New Zealand; Astrology

The Power of BodyTalk
The BodyTalk SystemTM truly offers a new dimension in self-care.
BodyTalk recognises that every one of us has a body-mind that has an innate wisdom - an inborn knowing of what it needs to change and, importantly, in what order. When all parts and systems of the body-mind communicate ("talk") with each other change happens naturally.
There appear to be no limits to the conditions that can be addressed with BodyTalk. It is effective on all levels: physical, mental, emotional, spiritual, hereditary and environmental. At a basic level it is the ultimate stress management tool. At deeper levels it has life-changing potential if you commit to working with it fully.

No two BodyTalk sessions are alike; each session is unique to you as an individual and addresses what your 'priority' is at that moment.
Many people experience noticeable changes in just one or two sessions.

To experience the simplicity, ease and effectiveness of The BodyTalk SystemTM, phone to arrange an appointment with me.


What my clients say about BodyTalk:
"Have managed to get up at 6am the last 2 mornings and go for a walk…feeling all energised at the moment." K.S.

"I had an excellent response to my last session with you and now have no pain in my right forearm and the same with my right foot. In fact things have improved so much that I am now back running on the beach in the mornings. I have not been able to run for a year because my foot was so bad. I noticed an improvement within a week but wasn't sure the improvement was lasting so didn't say anything, but now I'm sure it's a permanent improvement. Even running on a sloping beach hasn't brought about a recurrence of the problem." R.H.
"Seeing Shirley for BodyTalk has been extremely helpful. She has identified areas of my life that I needed to work on and helped me to recognise how I could move forward. I feel so much stronger in my abilities and have let go of past trauma and hurt. Shirley is a very caring person and you can't help but feeling better after seeing her. Thank you so much for helping me to realise my power. I now believe in myself and have a stronger sense of who I am." D.M.