Irene Khor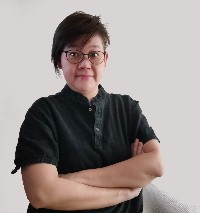 Irene Khor
CST Pract, NLP Master Pract, Reiki Master, Qimen, CBI, BAT, MSI, CBP, Parama BP, AdvCBP
Clinic
501, Bukit Timah Road
Cluny Court
Singapore, 259760
Singapore
Phone: +65 6526 3449
irene@bodytalk.com.sg
www.bodytalk.com.sg
Biography
Irene has been drawn to the fascinating BodyTalk System in 2005 and has been practicing BodyTalk professionally since 2006.
Currently the Director of Inverse Pte Ltd (Singapore), Irene practices PaRama BodyTalk as the primary modality, while integrating dynamically other amazing healing modalities (CranioSacral Therapy, Lymphatic Drainage, Qimen DunJia, Hypnosis, Enneagram, Family Constellation & BreakThrough techniques...etc), and had since observed significant value-added and amazing healing journey of her clients'.
She also offers Manual Lymphatic Drainage (Veltheim Method) and CranioSacral Therapy sessions to existing BodyTalk clients when required.
She teaches the BodyTalk Access, BodyTalk Fundamentals, BodyTalk Fundamentals Integration, MindScape in Singapore, Malaysia (Penang, Malacca & Kuala Lumpur), Philippines (Manila), Thailand (Bangkok), Guam (USA) and China.
Testimonials >>> BodyTalk Access
Testimonials >>> BodyTalk Fundamentals graduates
She studied most of the BodyTalk Modules with Sylvia Muiznieks. She also studied with John Veltheim, Marcio Ribeiro, Kerry D'Ambrogio, Kaími Pilipovich, Beverly Lutz, Loesje Jacob, Ben Manalo, Terryann Nikides, Kristy Kenny, Kris Attard in Singapore, New Zealand, Australia, Florida (USA), Calgary (Canada). She has completed all of the Advanced Modules [1, 2, 3, 4(7), 6, 9, 5-Lymphatic Drainage, 8A-AnimalTalk], Fundamentals Integration, Advanced Integration, Finding Health, Eastern Medicine, Body Ecology, PaRama BodyTalk Unit 1 (Practical) and PaRama BodyTalk Unit 2 (Practical). She has also attended the following Life Sciences Seminars - MindScape & Advanced MindScape, BreakThrough & BreakThrough Practical, FreeFall 1.
Irene has always been passionate in the areas of applied human psychology. Therefore, prior to acquiring skills in BodyTalk, she completed the Neuro-Linguistic Programming (NLP) Master Practitioner program together with Hypnotherapy & Timeline Therapy certifications and worked in the training and coaching environment for 4 years.
Because Irene is passionate in sharing and expanding knowledge, she also facilitates Study groups for Access, Advanced BodyTalk System Modules, PaRama BodyTalk, MindScape and BreakThrough.
Besides offering private BodyTalk session and teaching, she also coordinates Workshops for International IBA Instructors like Sylvia Muiznieks, Marcio Ribeiro, Kerry D'Ambrogio, Terryann Nikides, Loesje Jacob, Ben Manalo, Kristy Kenny as well as John Veltheim.
Visit www.bodytalk.com.sg/irene-khor/ for detailed profile of Irene.
Contact Irene via email irene@bodytalk.com.sg for an appointment.
Professional Certifications:-
- Certified BodyTalk Instructor
- BodyTalk Access Trainer
- Certified MindScape Instructor
- Advanced Certified BodyTalk System Practitioner
- PaRama BodyTalk Practitioner
- CranioSacral Therapy Practitioner
- Qimen Dunjia Practitioner
- Certified NLP Master Practitioner
- Certified Hypnotherapy Practitioner
- Certified Time Line Therapy Practitioner
- Reiki Master/Teacher (Usui System)
... other Trainings attended include:-
- MindScape & Adv. MindScape
- Linking Awareness & Linking Awareness Adventures
- BreakThrough & BreakThrough Practical
- Family/Systemic Constellation
- Crystal for Daily Living
- Numerology
- Qimen DunJia