Todd and Angela Adkins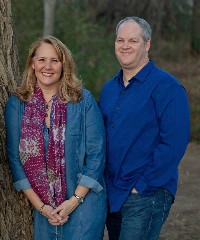 Biography
Todd Adkins PT, Adv. CBP, CBI and Angela Adkins LMT, Adv. CBP, CBI, CMI have over 45 years of combined experience in western medicine, mind-body therapies and holistic practices. Since 2002, Todd and Angela have owned and operated a successful holistic practice and international seminar business based in the Dallas/Ft. Worth area . Todd and Angela work with clients of all ages who seek optimal health and in partnership with a variety of professionals and health care providers.
Angela Adkins has over 20 years experience in the field of energy work and healing practices as a practitioner, licensed massage therapist and a business owner. She has facilitated MindScape courses for over 2,500 students in the United States, Japan, Brazil, Canada, and Germany. Angela's teaching and lecturing experience also includes: BodyTalk Fundamentals 1&2, BodyTalk Fundamentals Integration, MindScape for BodyTalkers and presenting at the IBA Instructor and Member Conferences.

Angela works with clients and families who seek optimal health and wellness. Her client base ranges the surrounding DFW area as well as internationally. Angela is available for in person sessions and phone consultation. Her areas of expertise include: women's health, family dynamics/relationships, and working with small business owners and entrepreneurs.

In addition to teaching internationally, Angela facilitates a guided MindScape Study Group where students of all experience levels enhance their skills. With live teleconferences, recorded lessons and helpful intuition exercises, students can learn, at their own pace, and practice how to apply MindScape in all areas of life.
Todd Adkins PT, AdvCBP, CBI is a licensed Physical Therapist, Advanced Certified BodyTalk Practitioner, Functional Movement Certified - Level I, and a BodyTalk Instructor. Todd graduated from Texas A&M University in 1990 earning a B.S. in Kinesiology and in 1993 graduated from The University of Texas Health Science Center at San Antonio with a B.S. in Physical Therapy.
With over 23 years of physical therapy experience, Todd has worked in hospital, rehabilitation, physical medicine and sports medicine facilities. He has trained under the former team physicians of the Dallas Cowboys, Dallas Mavericks, Dallas Sidekicks, Professional Rodeo Association, and the former head athletic trainer of the Miami Dolphins. He specializes in sports injuries, sports performance, pre and post surgery, preparing clients for organ transplants, working with business owners, entrepreneurs and provides functional movement screens for athletes of all levels and ages.

Todd teaches BodyTalk Fundamentals, BodyTalk Fundamentals Integration and BodyTalk Access throughout the United States and is a CE provider for massage therapists. Todd and Angela facilitate an online study group for BodyTalk students of all levels with participants from the United States, UK, Singapore, Brazil, China, Australia, South Africa, Ireland, New Zealand, China and Canada. The online study group provides a series of audio and slides, live calls, and question and answer opportunities to support BodyTalk practitioners.