Candis Bryanton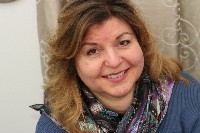 Candis Bryanton
Adv. Animal Communicator;RMT,Reiki Master, CBP, Parama BP
Clinic
Arbour Lake NW

Calgary, AB
Canada
Phone: 1-403-830-4733
candis.bryanton@gmail.com

Biography
Candis has a background in several modalities, Reiki Master , Registered Massage Therapist, Mindscape and Advanced Mindscape, Certified Serenity Vibrational Healing Practitoner, Certified Body Talk Practitioner, Animal BodyTalk Practitioner as well as a member and student of an ancient mystery school.
Courses such as Structual Integration, Mindscape,The Human Assemblage Point, BreakThru, Tuning Forks ,Crystal Toning, Linking Awarness, Light Language, PaRama Practioner as well as travelling, and volunteering, and exchanging.......are all some of the integrative techniques that enhance the unique balancing sessions Candis offers her clients.
Candis has a heart and passion for the well being of people, animals and nature. We are all connected.

Candis welcomes new clients to attend personal sessions or distance sessions.