Gayle Corlett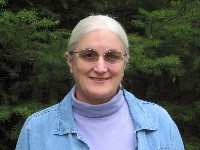 Biography
I am a life long intuitive with a deep connection to Spirit. I work with your body's wisdom to help create balance, harmony and flow. I listen to your priorities and help facilitate a gentle release in belief systems, and trauma that block vitality. I weave together many modalities and disciplines within the BodyTalk session helping to synchronize your whole self.
In addition to my certification in BodyTalk, I became a Certified Feldenkrais Practitioner in 2003, a Reiki Master Teacher in 2007, and a Licenses Massage Therapist in Oregon in 2008 (#15313) I have done advanced study in Jin Shin Do, Cranial Sacral Therapy and Spiritual Response Technique. I have had an on-going study and practice of Qigong since 2012.
I have a studio in my house in Portland, Oregon where I see clients. I also offer distance work done over the phone, and work with people from all over the country. My client list includes people with cancer, MS, parkinson's, those with a history of trauma and abuse, as well as people looking to improve their wellness and vitality. I also work with people who are artists, musicians, athletes wanting to step more fully into their gifts as well as people seeking personal growth, and help getting out of their own way.