Anna Welty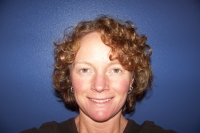 Anna Welty
Reiki practitioner, 5 Element Acupuncture Intern, CBP
Clinic


Whitefish, MT 59937
USA
Phone: (406)270-6915
weltyanna@gmail.com

Biography
I was introduced to BodyTalk during my search to find a health care modality which could relieve neck, shoulder, lower back, and knee pain that had accumulated through multiple minor injuries and traumas from my years of skiing, running, and other straining activities. After the first few sessions of BodyTalk, I found the old aches and pains had greatly diminished or disappeared, and also felt that I had much better stamina, strength, mobility, and coordination, in addition to a general feeling of being more centered, relaxed, and content.
Since learning and practicing BodyTalk, I have been quite impressed with the scope and results of sessions that I've given, and have gained a new appreciation of BodyTalk as a gentle, non-invasive, safe, comprehensive, and very effective healthcare system which respects and works in conjunction with each individual client's unique body.
I am excited to see and participate in the evolving ideas of healthcare today, as BodyTalk becomes more known and accepted as an affordable and effective healing catalyst which delivers profound results on all levels of health and well-being.
Please contact me via phone or email with any questions or to book a session.