Nisca Warthen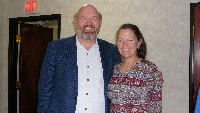 Nisca Warthen
CYT, CMT, CBP
Clinic
Call for directions
Hot Springs , MT 59845
USA
Phone: 406-741-5117
spiritriders@hotsprgs.net

Biography
BodyTalk sessions offer each of us the opportunity to release stress from old or new life challenges while promoting the restoration and healing of our body, mind and spirit. Gentle breath and tapping techniques stimulate our own body's natural healing response, an innate ability, which helps us move from dis-harmony to harmony within ourselves and with our environments.
Nisca's interest in natural and alternative health care began when her physician sent her to a local yoga class in 1974. She quickly realized that the body/mind holds many answers in our quest for wellness. This understanding began a lifelong interest in the field of alternative healing and energy work.
In the late '90's, Nisca began working in the field of health and wellness as a Certified Yoga Teacher, Phoenix Rising Yoga Therapist, and eventually adding Thai Yoga Massage.
In 2007, she discovered for herself how effective BodyTalk is. Simply put, the BodyTalk System can provide a door to the innate healing that dwells within each of us and this innate ability can be accessed energetically through the breath, specific tapping techniques and awareness. Nisca understood immediately that BodyTalk addressed the root of imbalance, releasing old patterns and then enhancing the body/mind's own natural healing abilities. This led her tobecome a certified BodyTalk Practitioner.
BodyTalk training includes:
Advanced BodyTalk Protocal and Procedure
BodyTalk Access
BodyTalk Fundamentals
BodyTalk Fundamentals Extension
BodyTalk Principles of Consciousness
BodyTalk Interactive with John Velthein
BodyTalk Macrocosmic BodyMind
BodyTalk Bio-Dynamics
BodyTalk Orthopedic Evaluation
Chinese Medicine for BodyTalkers
Structural Integration for BodyTalkers
Structural Integration Concepts Theory
Body Psychology Introduction
And the Life Sciences:
Mindscape
Breakthrough
Other certifications and trainings include: The SaeUn Method of Energy Balancing, Maniken Myologik Human Anatomy, Homeopathy, Alexander Technique, and advanced studies in Addiction, Trauma and PTSD recovery with advanced Yoga teachers from several traditions.
Nisca also enjoyed eight years offering support for a natural healthy lifestyle to subscribers of a large health newsletter business which provided advice from alternative medicine doctors. This exposure to alternative medical doctors and practices expanded her understanding of the "holistic" nature of healing.
Additionally, Nisca has worked with horses and taught riders since her teens. This close relationship with one of Mother Nature's best creations, the horse, has taught her much about life and freedom.
Please call for an appointment or to ask a question about BodyTalk or the sessions.