Taskeen Jamal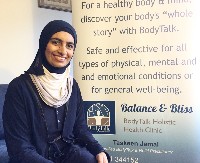 Biography
Welcome to Balance and Bliss! 

I am Taskeen, Certified BodyTalk Practitioner. I help women to achieve their greatest level of health, by supporting their potential to heal, grow and change!

BodyTalk has helped me manage a demanding job, falling pregnant, coping with loss of a loved one, and keeping it together with a busy life with two little kids under seven years!This is why I would love to empower you too with this amazing therapy– even if you feel that you have no time for yourself or have been suffering for a long time.

I offer personalised 1:1 sessions for  :
- BodyTalk Integrated Body/Mind healing

- Aafiyah Emotional Healing
I am based in Istanbul, but offer
distance healing sessions to women all over the world. Remote sessions are convenient (easy access and means you don't need to travel and can save time and money)
BodyTalk sessions postcare include a written report afterwards to take your healing to the next level.
- Motivational talks/ Health Days for the workplace or schools to uplift the staff, improve productivity and morale, and teach self-help tools to both kids and adults.
These can be online or in person in Istanbul.
Client Win!
"I'm very grateful for the Body Talk session ...It was very informative, enjoyable, relaxing but more importantly it was very beneficial to my mental and physical health. I feel the positive differences and I certainly feel my stress levels have reduced.
I was touched by this profound system and how you highlighted my stress concerns regarding the 'decision making'…which was a wow factor for me!!
I have learnt from your session that one's body is designed to heal itself by applying the simple and safe Body Talk techniques. It certainly works for me in by challenging & stressful career and lifestyle. I benefited more that the monitory cost of the session."
Razia Khan, 54 Office/Guarantees Portfolio Manager South Africa
Qualifications :
I have studied in the UK and in South Africa with a variety of international instructors. I continue with postgraduate studies for professional and personal growth.
My training includes:
- BodyTalk Access
- Body Talk Fundamentals (Modules 1&2)
- BodyTalk Fundamentals Integration
- Mindscape (tool to allow me to connect with you energetically for distance sessions)
- Advanced Mindscape
- Principles of Conciousness (body psychology, five senses and the mind)
- Biodynamics & TCM Five Elements
- BodyTalk Macrocosmic BodyMind
Apart from that I hold a Postgraduate degree in BComm (Honours with Distinction), specialising in Management, HR and Information Systems.

I combined my skills and experience working for 10 years at multinational corporate in marketing and business management, with my passion for holistic health to offer BodyTalk to help stressed moms and women find calm and balance - just like I seek for myself to stay on top of things!

Positive and practical Inspiration, news & events: http://www.facebook.com/balanceblissUK
https://www.instagram.com/balanceblissuk/
Get in touch if you would like to start up-levelling your health and your life today!
Whatsapp is best +447771344152 or email balanceandbliss@hotmail.com