Taskeen Jamal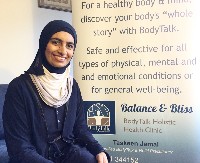 Biography
My mission is to help women move from feeling frustrated to feeling calm and in control, to understand themselves better -in order to act to transform their life, one insightful BodyTalk session at time!
BodyTalk has helped me manage a demanding job, falling pregnant, coping with loss of a loved one, and coping with a busy life with two toddlers!
This is why I would love to empower you too with this amazing therapy– even if you feel that you have no time for yourself, have been suffering for a long time or feel dependent on medication.
LOCATION: I am currently offering distance healing sessions- these are remote sessions regardless of where you are located. It is ideal with current travel restrictions and perfect to suit busy moms as sessions can be conducted without you needing to travel or take time off!
Qualifications : I have studied in the UK and in South Africa with a variety of international instructors. I continue with postgraduate studies for professional and personal growth.
My training includes:
- BodyTalk Access
- Body Talk Fundamentals (Modules 1&2)
- BodyTalk Fundamentals Integration
- Mindscape (tool to allow me to connect with you energetically for distance sessions)
- Advanced Mindscape
- Principles of Conciousness
- BodyTalk Macrocosmic Mind
Apart from that I hold a Postgraduate degree in BComm (Honours with Distinction), specialising in Management, HR and Information Systems.

I combined my skills and experience working for 10 years at multinational corporate in marketing and business management, with my passion for holistic health to offer BodyTalk to help stressed moms and women find calm and balance.
Public talks/demos and taster sessions (virtual)
If you would like to offer your staff/team/delegates some great tools to boost their health and improve productivity, then call me for your next coffee morning, health & well-being event or ladies get together. This is what I can offer:
· a short talk, a BodyTalk demonstration, mini 'Taster Sessions' and teach everyone a unique BodyTalk technique called 'Tapping your Cortices' to relieve stress, give your brain a restart and relax and calm your body/mind.
The perfect complement to your event or Open Day!
My BodyTalk journey
After hearing about BodyTalk in 2008 from my mum, a radio show presenter who interviewed a senior BodyTalk Instructor in South Africa, I started to go for sessions and immediately experienced improvements in my health with the biggest change to my life being not needing to reach for the pill box for simple aches and pains, and as such I haven't taken general antibiotics in over 5 years.
I was completely blown away when attending my very first "Bodytalk Access" course when I learnt simple yet powerful techniques to help myself (and others) heal naturally. From then on, my interest was piqued and there was no going back – I wanted to take my journey with this breakthrough system further!
Later that year I embarked on becoming a Certified Bodytalk Practitioner, and have had totally inspiring results from practising this system to date.

Inspiration, news & events: http://www.facebook.com/balanceblissUK
https://www.instagram.com/balanceblissuk/
More info: http://www.balanceandbliss.co.uk
What you get from me after a session:
An audio AND written report (don't know many who offer this!)
PLUS Follow up call for feedback & questions.
Client love:
"I'm very grateful for the Body Talk session ...It was very informative, enjoyable, relaxing but more importantly it was very beneficial to my mental and physical health. I feel the positive differences and I certainly feel my stress levels have reduced. By using your simple & unique techniques which miraculously restores the vital communication between various parts of my body and mind…unbelievable true. I was touched by this profound system and how you highlighted my stress concerns regarding the 'decision making'…which was a wow factor for me!!
I have learnt from your session that one's body is designed to heal itself by applying the simple and safe Body Talk techniques. It certainly works for me in by challenging & stressful career and lifestyle. I benefited more that the monitory cost of the session."
Razia Khan, 54 Office/Guarantees Portfolio Manager South Africa
Get in touch if you would like to start experiencing the benefits of BodyTalk with me today!