Kelley Burry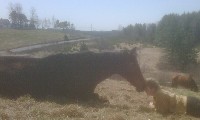 Biography
I have a Bachelor of Kinesiology and an Education degree from Dalhousie University and have taught elementary school for many years. About 18 years ago I retired from teaching Public School to work with people and animals in Equine Facilitated Investigative Healing. Body Talk fits right in! The BodyTalk System and its philosophy is a wonderful way to deepen our training and healing results with all animals, and their humans! I call BodyTalk our path to peace starting from the inside out!
My healing journey began in 2006 after suffering for years with lower back pain and depression. I found myself discovering a variety of healing practices including BodyTalk and Shamanism, which changed my life forever. I continually review the works of a variety of author's dedicated to understanding consciousness and awareness to improve my own practice, as well as to use as a platform for self-discovery.
In January 2009 I was very excited to become a BodyTalk Access Trainer. I have seen in my practice and my own life just how powerful Access can be for animals and humans alike.
In 2010 I completed my Advanced Practitioner certification in BodyTalk to serve my clients better and deepen my own healing and awareness practice. 2010 also found me busy training to be a BodyTalk Fundamentals Instructor which I completed in December 2010. In September 2013, I have added Macrocosmic Mind to the list. Also during the last 8 years, I have immersed myself in studying PaRama BodyTalk, BodyTalk Breakthough System, as well as becoming a full mesa shaman. In early 2016 I was excited to also add Principles of Consciousness- Mod 3 to the courses I can offer.
In my ever expanding private BodyTalk practice I offer all of my clients (two-legged and four-legged) private sessions in BodyTalk and how to live consciously. Namaste Esperanza Retreat offers the community and students a wide range of BodyTalk classes from BodyTalk Access and Fundamentals 1 and 2, to all of the advanced modules, as Namaste Esperanza hosts other instructors from around the world.
Namaste Esperanza Integrated Wellness Retreat, here in Nova Scotia, begins its 7th season in 2017, where the focus is on Living Consciously -" Creating a Conscious Life", in the discovery of who you are NOT! Integration, experiential healing and training opportunities, and wellness programs for both humans and animals are the focus. And of course, the philosophy and Science of BodyTalk is the foundation for all of this not just as another healing modality but as a way of life. Namaste Esperanza Retreat also offers a full service community living/training/recovery retreat, as well as 4 classrooms onsite, and so much more. I hopeyou will make your way to Namaste Esperanza Retreat soon and enjoy a course, a session, or just a getaway!
Namaste