Jana E. Brady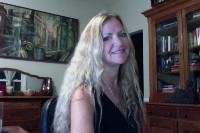 Biography
Your body/mind/spirit is an exquisite instrument with an innate capacity to heal. It is an amazing recording device that is intended to help you navigate the journey of your life.


With BodyTalk you co-create with this sophisticated intelligence to harmonize your life and your perception of your experiences.



BodyTalk is an invitation to listen to the story your body has to tell.


Jana has been a certified BodyTalk practitioner since 2003. She loves doing BodyTalk with both animals and their humans. She is a multifaceted professional who brings a wide variety of experience to the table.

Jana is also a nationally certified American Sign Language Interpreter. She has specialized in medical interpretation since 1988. During that time she has enjoyed a wide range of experiences working in many medical scenarios with lots of wonderful people.
She sees a clear correlation between the roles of interpreting language and interpreting what the body's innate intelligence is saying. Both require an approach of neutrality, respect, acceptance and knowledge.
Learning to read the body in both roles is essential. This art is accentuated and enhanced by her ongoing devotion to improving her skill set and developing her gift of intuition.
Jana also loves to work with all members of your animal family including horses, dogs, cats and more.
You may reach her at janaebrady@me.com (843)801-4164 for in person, on location or remote appointments.

BodyTalk Courses:

BodyTalk Access
BodyTalk: Fundamentals 1 & 2
BodyTalk: Principles of Consciousness
BodyTalk : Bio-Dynamics
BodyTalk: Macrocosmic BodyMind
BodyTalk: Matrix dynamics
Advanced BodyTalk Protocol and Procedures
Founders Session
BodyTalk for Animals
Linking Awareness Intercellular Communication
Structural Integration
Mindscape
Advanced Mindscape
Mindscape for BodyTalkers
PaRama Unit 1
PaRama Unit 2
Right Brain
Mind Crystals
The Soul's Journey
Numerous workshops at conferences



Additional Courses in other Modalities:

Inner Engineering
Family Constellations

Heart Circle
Hatha Yoga
Tai Chi
Qi Gong
Matrix Energetics
Reiki

Thank you very much!

Peace & Love,
Jana's Team