Sandra M.J. Wong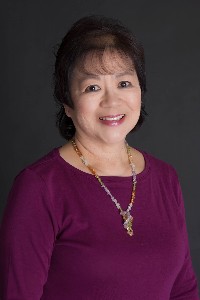 Sandra M.J. Wong
PhD, TAT Trainer, Reiki Master/Teacher, BAT, CBP, Parama BP, AdvCBP
Clinic
By Appointment Only
1200 Brittan Ave.
San Carlos, CA 94070
USA
Phone: (650) 867-6821
entegrate@me.com
www.en-tegrate.com
Biography
When first introduced to BodyTalk, Dr. Sandi Wong was skeptical about what it could do for her. After a few sessions, She was amazed that her year-long chronic shoulder pain disappeared. BodyTalk also helped her in eliminating ongoing leg cramps, accelerated the healing of a broken wrist and addressed digestive discomforts. Sandi has also witnessed how BodyTalk helped her family members and friends.
Recognizing the power and comprehensiveness of the BodyTalk System, Sandi became an Advanced Certified BodyTalk Practitioner and a BodyTalk Access Trainer. Through continuing studies and specialty classes, like PaRama, Eastern Medicine, Structural Integration, Body Ecology, Evolve Epigenetics, BodyTalk for Animals, BreakThrough and Advanced Mindscape, she incorporates cutting edge techniques in her practice. In addition, Sandi was trained in Tapas Acupressure Technique® (TAT®) by Tapas Fleming, and is a certified TAT Professional and Trainer. As a Reiki Master/Teacher, Sandi teaches Reiki and had led the Reiki Clinic for patients and family members at Stanford Health Care from 2007 to 2020.
Sandi has participated in integrative health practices all her life and believes that there are multiple approaches to health care and well-being. Growing up in Hong Kong, Sandi was introduced to the benefits of Chinese medicine and complementary approaches at an early age. Receiving a doctorate in Cultural Anthropology from Stanford University, a master's degree in Asian Studies, and experience in international marketing research have broadened Sandi's worldview and strengthened her respect for differences among people, cultures and practices.
Sandi offers energy work and personalized coaching to people ready to live a vibrant, creative and balanced life. She integrates more than 15 years of energy healing expertise with 30+ years of award winning business and consulting experience in career, leadership and team development to help her clients focus on living a balanced and resilient life.
Remote sessions and alternate locations may be arranged.