Jaya Hollohan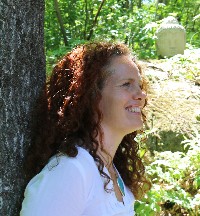 Biography
Jaya Hollohan has completed the following Modules: BodyTalk: Fundamentals Modules 1 and 2, BodyTalk: Fundamental Integration, BodyTalk: Principles of Consciousness, BodyTalk: Bio–Dynamics, BodyTalk: Lymphatic Drainage, BodyTalk: Macrocosmic BodyMind, BodyTalk: Matrix Dynamics, Chinese Medicine for BodyTalkers, Eastern Medicine, BodyTalk Access, Mindscape, Finding Health 1: Mapping the Healing Process, Finding Health 2: Applied Consciousness, 3 BodyTalk Treatment Intensives, BodyTalk Orthopedic Evaluation, Fascial Energetics Level 1, Advanced Modules Integration courses, Anatomy and Physiology (90 hours), BodyTalk for Animals, BodyTalk Access for Animals, Biophysical Mind, Body Ecology, BreakThrough 1, Parama 1 (twice) and Parama 1 Practical.

In addition, Jaya is a certified Life Coach, Yoga Teacher, Cranialsacral and Reiki Practitioner, and is currently enrolled in a 3 year Somatic Experiencing Professional training that helps to facilitate the integration of trauma (www.traumahealing.org). She has a particular interest in consciousness, resolving trauma and balancing mental and emotional health patterns and their affects on the physical body.

Jaya's sessions facilitate change in the body and mind via energetic repatterning at the root of each individual's unique stress, disease, and/or symptoms.
Jaya's spiritual and professional journeys have taken her to study, travel and work in over 30 countries around the globe. She has walked the Camino de Santiago in Spain, visited the pyramids in Egypt, the Sea of Galilee in Israel, holy Bethlehem in Palestine, the Ashrams of India, the sacred Machu Picchu trail in Peru, the Buddhist Temples of Asia, the ancient cultures of West Africa and many more in the search of truth, and for the love of life.

She earned a BA in English and Peace and Conflict Studies at the University of Waterloo, an MA in Peace and Development Studies at Juame 1 University in Spain and worked as a part-time consultant in International Development with the Canadian Federal Government for seven years.

When she is not traveling to the world's Ashrams and Monasteries with her son, she is providing BodyTalk/Somatic Experiencing sessions, writing consciousness/mindbody health articles and continuing her spiritual and health studies in and around the Ottawa area.

Jaya is Author of the book, "Who We Are When We Thrive: Remembering Happiness & Rediscovering Health" and creates various conscious media, including guided audio meditations. Pls see her website for details!