Amy Freund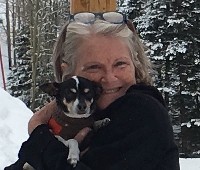 Biography
Amy Freund, R.N. (Virginia), Advanced CBP, CBI, ParBP, BAT, Certified BodyTalk Instructor, BodyTalk ACCESS Trainer, Parama BodyTalk Practitioner

Access Consciousness BARS Facilitator & Practitioner

Access Consciousness Body Processes Facilitator
Healing Touch Practitioner, Humans and Animals
Amy Freund is a native Floridian, born and raised in Miami. She is the fourth eldest of eleven children. She became a registered nurse in Florida in 1979 and worked several years at Jackson Memorial's Neurosurgical Intensive Care Unit, as well as Miami Heart Institute's Coronary Care Unit. She spent many years doing private duty and resigned her position as a nurse to the public in 1987, to take on the role of MOM to her newborn daughter, Paisley.
Amy has been on a spiritual/healing path since June of 2000. She began this path with Healing Touch and after completing the 3 year program, became a Healing Touch Practitioner. Throughout the years she has studied and completed many other modalities including:
Mark Dunn Level One Consciousness, Healing Touch for Animals Practitioner level one and level two - dogs/cats and Equine, Brain Gym Level One, Access Consciousness: The BARS Facilitator and Practitioner, Body Process Facilitator, Foundations and Level One. Matrix Energetics Level 1, 2, and level 3 -MAGIC. YUEN Energetics Level 1,2,3, Basic/Advanced Psych-K, DNA/Theta Healing Level 1 & 2, Therapeutic Touch level 1, Reflexology level 1, Kim Seer's Quantum Healing/Medical Intuition level 1-5, Animal Communication with Penelope Smith 2 day workshop, Rock Medicine, Basic and Advanced Akashic Records with Laura Lynn Bunn, Donna Eden Energy Medicine multiple workshops, Kathy Sinnett's Energetic Transformations, EFT (Emotional Freedom Technique), TAT (Tapas Acupuncture Technique), Bio Genesis, Reiki Master (Usui/Japanese/Jorei), THE LILY, and pendulum healing/dowsing.
She took her first courses in BodyTalk Fundamentals Part One and Two, in March of 2003. Since then, she has become certified in BodyTalk and has monitored Fundamentals Part 1 & 2 (eleven) times, completed BodyTalk Fundamentals Integration three times, BodyTalk Principles of Consciousness (monitor three times ), BodyTalk Bio-Dynamics (monitored five), BodyTalk Macrocosmic Body Mind (monitored twice), Module 8A BodyTalk for Animals, BodyTalk Matrix Dynamics (monitored twice), Mindscape, Parama Breakthrough One with Esther Veltheim, Parama Advanced Breakthrough Two with Esther Veltheim, Right Brain Practical with Dr. John Veltheim, Module One Extension with Dr. John Veltheim, Family Systems Constellations, Orthopedic Evaluations Level One, BodyTalk ACCESS for Animals (twice), and is a BodyTalk ACCESS (Instructor). She is presently enrolled in the Parama College, Unit one and has completed the Parama unit One Practical which affords her the title Parama BP.
She is a Certified BodyTalk Instructor and teaches Fundamentals Part One and Two and BodyTalk Fundamentals Integration as well as a Certified BodyTalk ACCESS Instructor and an Advanced Certified BodyTalk Practitioner. She is a member in good standing of the South Florida BodyTalk Association. She is also a member in good standing with the International BodyTalk Association.
Amy is also an instructor in Access Consciousness™ and is available to teach The BARS™ as well as 50 different Body Processes. See http://amyfreundbodytalk.com for further information on classes
Amy is available for In-Person as well as Distance sessions. Please call (305) 725.7400 or 305-576.7400 to schedule an appointment or write via email to schedule an office appointment or distance session. amyfreund@mindspring.com
"I am excited to be here and to be doing this work! I set aside time each week, minimally, to receive clearings and balancings with BodyTalk and other modalities. I wish to be as clear a vessel as I can to facilitate my own healing as well as those who choose to work with me. It is an honor to be involved at this level of heart connection with all in the universe!"
Hugs!
amy